Lemon Grass & Chamomile Cooler
Printemps 2016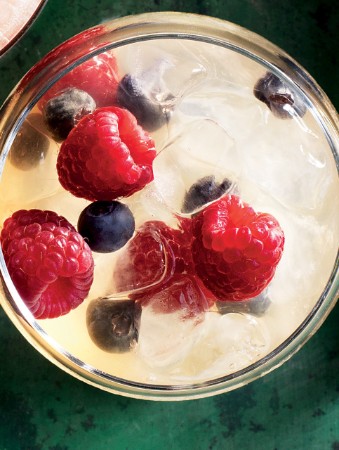 Lemon Grass & Chamomile Cooler
Printemps 2016
BY: Michelle P. E. Hunt and Laura Panter
Dried lemon grass has a woody texture that is not suitable for eating but, once soaked, the flavours will seep out, making it a great ingredient for tea. We love this soothing combination with or without the vodka, and it can be kept in the fridge for quick mixing.
1 For tea, to a saucepan, add 1 cup (250 mL) water, 2 tbsp (30 mL) fresh or dried lemon grass. Bring to a simmer for 5 to 10 minutes. Remove from heat and add 2 chamomile tea bags. Stir to steep. Allow to cool and strain out liquid. Discard solids.

2 Fill a wine goblet with ice. Add 1½ oz vodka, the juice of ⅛ fresh lemon and 4 to 5 oz tea. Add 1 tbsp (15 mL) fresh blueberries and raspberries.
SHARE