Lemon Biscotti Crisps
Winter 2007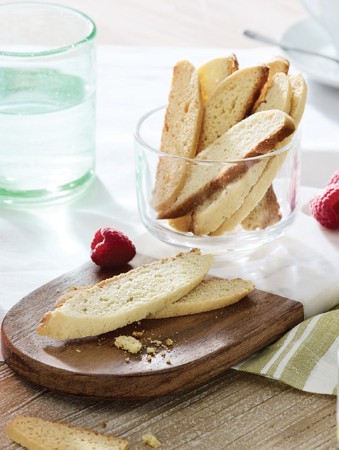 Lemon Biscotti Crisps
Winter 2007
BY: Jennifer MacKenzie
A thin, crispy biscotti bursting with lemon flavour is a lovely little sweet to serve with espresso. This recipe makes a large number of cookies, however they are very tiny so you'll need to eat a few at a time. They keep very well in a cookie tin.
2¾ cups (675 mL) all-purpose flour
1½ tsp (7 mL) baking powder
¼ tsp (1 mL) salt
½ cup (125 mL) butter, melted
1 cup (250 mL) granulated sugar
3 eggs
1 tsp (5 mL) vanilla extract
2 tbsp (25 mL) grated lemon zest
1. Preheat oven to 325ºF (160ºC).

2. Line a large baking sheet with parchment paper.

3. Combine flour, baking powder and salt in a bowl. In a large bowl, whisk together butter and sugar until blended. Whisk in eggs, 1 at a time, until well blended. Whisk in vanilla and lemon zest. Using a wooden spoon, gradually stir in flour mixture, stirring until a soft dough forms.

4. Drop each third of dough onto baking sheet in a rough log shape, leaving at least 4-inches (10 -cm) between logs. With lightly floured hands, form each portion to make a smooth log 12 -inches (30-cm) long by 2-inches (5-cm) wide.

5. Bake for about 30 minutes or until firm and starting to turn golden. Let cool on pan on a rack for about 10 minutes, until cool enough to handle. Transfer to a cutting board and, using a serrated knife, cut crosswise on a slight diagonal into very thin slices, less than ¼-inch (5-mm) thick. Return slices, cut-sides down, to unlined baking sheets (you may need 2 or 3 baking sheets).

6. Reduce oven temperature to 300ºF (150ºC) or 275ºF (140ºC) if using dark baking sheets).

7. Return cookies to oven, in batches if necessary. Bake for about 15 minutes longer, rotating pans halfway, or until cookies are dry and crisp but not browned. Let cool in pans on wire racks. Store in a cookie tin at room temperature for up to 2 weeks or freeze for up to 3 months.
Makes about 12 dozen biscotti
SHARE