Kimchi Devilled Eggs
Summer 2015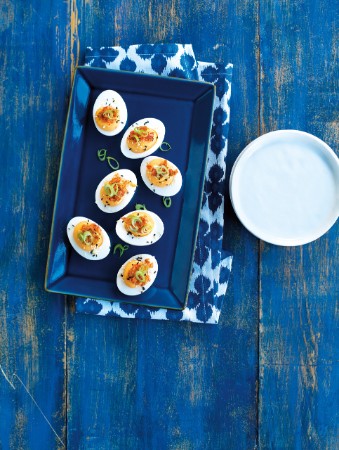 Kimchi Devilled Eggs
Summer 2015
BY: Eric Vellend
The blank slate of a hard-boiled egg leaves it wide open to devilish interpretations from all over the world. Here, the picnic staple is amped up by bold flavours from the Korean pantry. Gochujang, the umami-rich paste of chilis and fermented soybeans, gives the filling a fiery kick and a vibrant red hue, while the sour, garlicky crunch of kimchi tempers the richness of the yolk. Gochujang and kimchi can be found at Korean food shops and most Asian supermarkets. To toast sesame seeds, cook them in a small fry pan over medium heat, stirring often, until golden, about 4 to5 minutes. Transfer to a plate to cool.
6 large eggs, at room temperature
5 tbsp (75 mL) mayonnaise
2½ tsp (12 mL) gochujang (Korean hot pepper paste)
¾ tsp (4 mL) sesame oil
½ tsp (2 mL) rice vinegar
1 tsp (5 mL) sesame seeds, toasted
1 tsp (5 mL) black sesame seeds
¼ cup (60 mL) thinly sliced kimchi
¼ cup (60 mL) thinly sliced green onion (green part only)
1 Place eggs in a medium pot. Cover with cold water. Bring to boil over high heat. Cover and remove from heat. Let stand 15 minutes. Drain off hot water. Run eggs under cold water for 1 minute. Let stand covered in cold water for 20 minutes. Drain and peel.

2 Halve eggs lengthwise, cleaning knife with wet paper towel after each cut. Carefully remove yolks and place in a small bowl. Mash yolks with a fork. Add mayo, gochujang, sesame oil and rice vinegar. Blend with fork until smooth.

3 Using a pastry bag with no tip, pipe filling into egg whites. (Alternatively, you could use a spoon.) Cover and refrigerate up to 8 hours.

4 When ready to serve, place eggs on platter. Sprinkle with sesame seeds. Top filling with kimchi. Sprinkle with green onion.
SHARE