Kentucky Sunshine
Hiver 2014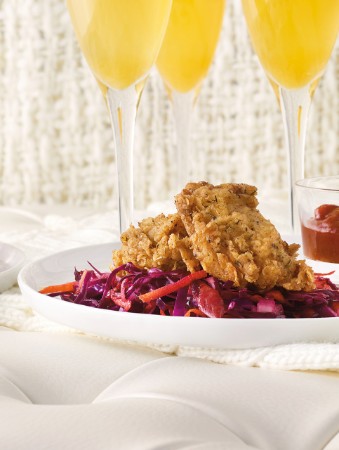 Kentucky Sunshine
Hiver 2014
BY: Signe Langford
Celebratory, woody and minty, this drink includesCalifornian bubbles, Florida oranges and Kentucky bourbon. The mint's a nod to another Kentucky classic, the Julep.
½ cup (125 mL) whole, fresh, mint leaves
9 oz (250 mL) Maker's Mark Kentucky bourbon
3 cups (750 mL) freshly squeezed orange juice
1 to 2 bottles California sparkling wine
Fresh mint sprigs for garnishing each flute
1 Add the mint leaves to a pitcher and, with a muddler, lightly bruise them to release their essential oils.

2 Add the bourbon and orange juice, and stir.

3 Pour the orange and bourbon mix—holdingback the mint—evenly between 6 Champagne flutes, and top up with well-chilled sparkling wine.

4 Garnish with a mint sprig.
SHARE