Japanese Chicken Curry
Early Summer 2011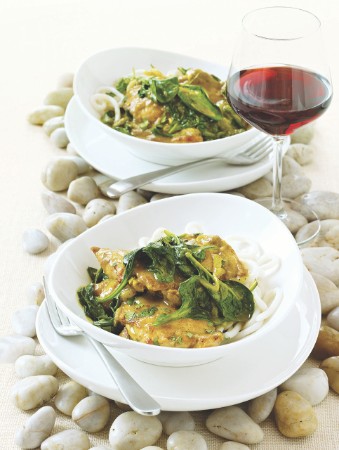 Japanese Chicken Curry
Early Summer 2011
BY: Lucy Waverman
The Japanese curry powder in this recipe uses a lot of healthy turmeric, giving it a distinctive yellow look. For spice the Japanese use cayenne. Serve with rice or udon noodles and Japanese pickles.
1½ lbs (750 g) boneless, skinless chicken thighs
Salt and freshly ground pepper
⅓ cup (75 mL) vegetable oil
1 cup (250 mL) thinly sliced onion
½ cup (125 mL) coarsely grated peeled apple
2 tbsp (25 mL) Japanese Curry Powder 
1 tbsp (15 mL) chopped ginger
1 tbsp (15 mL) chopped garlic
3 tbsp (45 mL) flour
2 cups (500 mL) chicken stock
4 cups (1 L) baby spinach
2 tbsp (25 mL) finely chopped coriander
1. Cut chicken thighs in thirds. Season chicken thighs with salt and pepper. Heat 2 tbsp (25 mL) oil in a large skillet over medium-high heat. Add thighs in batches and sear about 1 minute per side or until lightly golden. Reserve.

2. Reduce heat to medium. Add remaining ¼ cup (50 mL) oil and onion into skillet and sauté for 2 minutes or until onion is softened. Add apple, curry powder, ginger and garlic and sauté for 1 minute or until fragrant. Stir in flour and cook, stirring, for 1 to 2 minutes to cook out floury taste. Add stock a little at a time until well combined, and bring to boil. Simmer 5 minutes to thicken, and taste for seasoning.

3. Return chicken to skillet and cook in sauce for another 10 minutes or until thighs are cooked through. Add spinach and coriander. Cook just until spinach wilts.


Japanese Curry Powder
You can buy Japanese curry powder but it is easy to make your own from our recipe. It is fragrant rather than really hot.

2 tbsp (25 mL) turmeric
1 tbsp (15 mL) ground coriander
1 tsp (5 mL) ground cumin
½ tsp (2 mL) ground cardamom
½ tsp (2 mL) cinnamon
½ tsp (2 mL) ground ginger
½ tsp (2 mL) freshly ground pepper
¼ tsp (1 mL) cayenne pepper
¼ tsp (1 mL) ground cloves
¼ tsp (1 mL) ground fennel
1. Combine all spices in a small bowl and stir until uniform. Extra curry powder keeps well in a sealed container.
SHARE