Island Sweet Potato Salad with Jerk Chicken
Summer 2006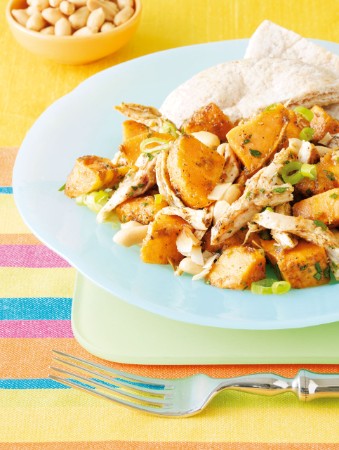 Island Sweet Potato Salad with Jerk Chicken
Summer 2006
BY: Marilyn Bentz-Crowley
The natural sugariness of sweet potatoes begs for flamboyant flavours and refreshing lime. So turn up the heat - and the flavour - with jerk sauce very similar to that created by luncheon chef Lili Sullivan at Bloomfield's Carriage House Restaurant in Prince Edward County. Or if you prefer, substitute your favourite purchased jerk sauce.
Jerk Sauce
1 to 2 Scotch bonnet peppers, stems removed
½ cup (125 mL) fresh thyme leaves and tender stems, lightly packed
½ cup (125 mL) coarsely chopped onion
4 green onions, sliced
3 cloves garlic
¼ cup (50 mL) red wine vinegar
¼ cup (50 mL) peanut oil
¼ cup (50 mL) soy sauce
1 tsp (5 mL) ground allspice
½ tsp (2 mL) ground cinnamon
½ tsp (2 mL) ground nutmeg
¼ tsp (1 mL) ground cloves
3 to 4 skinless, boneless chicken breasts or 6 to 8 thighs

Dressing
2 limes
1/3 cup (75 mL) peanut oil
2 tbsp (25 mL) mango chutney, finely chopped
2 tbsp (25 mL) jerk sauce
1 clove garlic, minced
1 tsp (5 mL) chili powder
1/4 tsp (1 mL) ground cumin
1/4 tsp (1 mL) salt

Salad
3 lb (1.5 kg) sweet potatoes
1 to 2 tbsp (15 to 25 mL) peanut oil
¼ cup (50 mL) coarsely chopped coriander
2 large green onions, thinly sliced
¼ cup (50 mL) roasted and salted peanuts
¼ cup (50 mL) unsweetened coconut flakes or shreds, toasted
1. To make jerk sauce with fiery Caribbean-level spiciness, use whole peppers; for lesser heat, seed peppers and remove ribs. Place peppers, thyme, chopped onion, green onions and garlic in a blender. Whirl until broken up into small pieces. Add red wine vinegar, oil, soy sauce and spices. Whirl until texture is similar to salad dressing. Spread ¼ cup (50 mL) jerk sauce over chicken; leave at room temperature while making dressing. Or cover and refrigerate chicken for up to a day. Refrigerate remaining jerk sauce in a covered glass jar; sauce keeps well for several weeks.

2. To make dressing, zest limes and squeeze juice; whisk in a large bowl with oil, chutney, jerk sauce, garlic, chili powder, cumin and salt.

3. To make salad, preheat BBQ until medium-hot. Cut unpeeled potatoes in half lengthwise; or if very large, into quarters. Oil potatoes and marinated chicken. Place potatoes cut-side up and chicken on grill; adjust heat for moderate to low grilling. Grill chicken, turning occasionally, for 10 to15 minutes or until just cooked. Remove and cool on a plate. Grill potatoes for 20 to 25 minutes, turning after 15 minutes, or until just tender when poked with a skewer. If potatoes brown too quickly, reduce the heat.

4. Shred chicken. Remove potato skin; discard. Cut into medium dice. Add chicken and potatoes to dressing. Gently fold mixture until well combined. Salad can be covered and refrigerated for up to a day.

5. When ready to serve, stir in coriander and green onions. Scatter salad top with peanuts and coconut. Pass remaining jerk sauce, extra peanuts and coconut for guests to add to taste. Complete the feast with warmed chapati or whole wheat pita and a plate of sliced cucumbers.
Makes 6 to 8 main-course servings
SHARE