Infused Sugars with Sugar Cookies
Temps des Fêtes 2004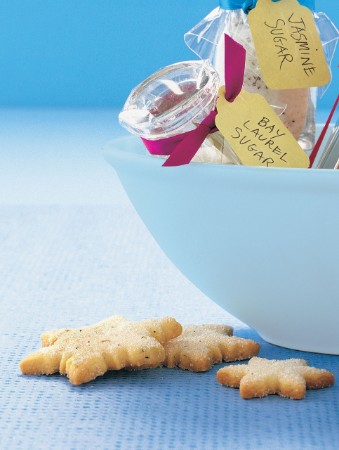 Infused Sugars with Sugar Cookies
Temps des Fêtes 2004
BY: Anna Olson
This is a great basic sugar cut-out cookie that changes personality with the infused sugar you choose to use. Even with regular sugar, it's a holiday "must". Infused sugars make a classic cookie unique, exotic and totally irresistible.Time is the key to infusing sugars, since you can't extract the flavours using heat. The taste of Jasmine, Chai or Bay Laurel add a marvelous and sophisticated new dimension to simple sugar cookies - and the sugars themselves, wrapped up in decorative jars, become the most delightful gifts.
Sugar Cookies
¾ cup (175 mL) unsalted butter at room temperature
½ cup (125 mL) infused sugar of your choice
¼ cup (50 mL) icing sugar, sifted
½ tsp (2 mL) finely grated lemon zest
1 tsp (5 mL) vanilla extract
1 large egg at room temperature
2 cups (500 mL) all-purpose flour
1½ tsp (7 mL) baking powder
¼ tsp (1 mL) fine salt
Egg white, for brushing
Sugar, for decorating
1. Beat butter until light and fluffy. Add sugar and icing sugar, and cream them until smooth. Add lemon zest, vanilla and egg and blend well. In another bowl, sift flour with baking powder and salt and add to butter mixture. Combine just until dough comes together. Shape into a disc, wrap and chill for at least 2 hours before rolling. If preparing far in advance, allow dough to soften at room temperature an hour before rolling.

2. Preheat oven to 325ºF (160ºC). On a lightly floured surface, knead dough slightly to soften. Roll dough to ¼-inch (1-cm) thick and cut out desired shapes - unused dough can be re-rolled and cut again. Place cookies on a greased or parchment-lined baking sheet and bake on the centre rack of the oven for 12 to 15 minutes, until bottom of cookies turn a light golden brown. Remove cookies to a cooling rack and cool completely.

3. Cookies can be brushed with egg white and sprinkled with infused or coloured sugar to finish. Let egg white dry completely before packing in an airtight container.
Makes 4 to 5 dozen cookies

Bay Laurel Sugar
3 cups (750 mL) sugar
8 fresh bay leaves or 14 dry
1. Partly fill a 3 cup (750 mL) jar with sugar and insert half of the bay leaves. Cover with remaining sugar and add remaining bay leaves. Give the jar a gentle shake to distribute leaves and let sugar infuse for at least 2 weeks. Sift out leaves before using.

Jasmine Sugar 
3 cups (750 mL) sugar
3 tbsp 45 mL) loose jasmine green tea or 2 jasmine green tea bags

Chai Sugar 
3 cups (750 mL) sugar
12 whole green cardamom pods
6 whole star anise
6 black peppercorns
6 whole cloves
3 cinnamon sticks or instead of spices, 4 chai tea bags (not the sweetened mix)
Jasmine Sugar:
1. Fill a 3 cup (750 mL) jar with sugar. Add loose jasmine tea or tear open tea bags and pour into jar. Close jar and shake to distribute tea. Let sugar infuse for at least 2 weeks, up to 1 month. Sift out tea to before using.

Chai Sugar:
1. Partly fill a 3 cup (750 mL) jar with sugar. Press half the spices into sugar (or if using chai tea bags, follow the method for Jasmine Sugar).  Top with remaining sugar and spices. Cover and shake gently to distribute. Let sugar infuse for at least 3 weeks. Sift out spices to use.
Each makes 3 cups (750 mL)
SHARE