Individual Brie & Fig Strudels
Temps des Fêtes 2008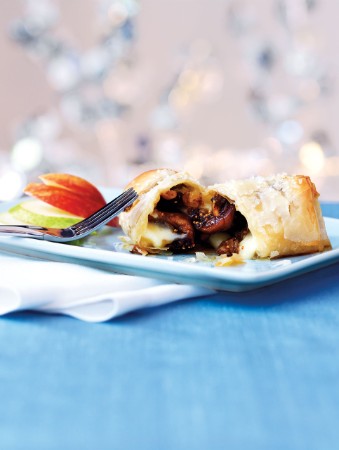 Individual Brie & Fig Strudels
Temps des Fêtes 2008
BY: Nicole Young
Fig compote and brie make perfect partners in these inspired strudels. Serve them at the beginning of the meal over a bed of lightly dressed peppery greens or sprinkle them with a little coarse sugar before baking for a not-too-sweet dessert.
6 oz (175 g) dried figs, stems removed and chopped
½ cup (125 mL) chopped red onion
½ cup (125 mL) water
¼ cup (50 mL) balsamic vinegar
¼ cup (50 mL) lightly packed brown sugar
½ cup (125 mL) golden raisins
1 clove garlic, minced
1 tbsp (15 mL) minced fresh ginger
2 tsp (10 mL) orange zest
½ tsp (2 mL) salt
¼ tsp (1 mL) cayenne pepper
¼ cup (50 mL) toasted pine nuts
8 sheets phyllo pastry
¼ cup (50 mL) butter, melted
8 oz (250 g) brie, rind removed and sliced
1. Preheat oven to 375ºF (190ºC).

2. In a heavy saucepan, combine figs, onion, water, balsamic vinegar, brown sugar, raisins, garlic, ginger, orange zest, salt and cayenne over medium-high heat; bring to boil. Reduce heat to medium-low to maintain a gentle simmer until most of liquid has been evaporated, about 25 minutes. Remove from heat. Stir in pine nuts. Let cool.

3. Place 1 sheet of phyllo on a work surface, keeping remaining sheets covered with damp tea towel to prevent drying out. Brush sheet lightly with some of the butter. Fold in half lengthwise; brush lightly with some of the butter. Arrange 2 slices of Brie along 1 narrow end of the phyllo, leaving a 1-inch (2.5-cm) border. Top with ¼ cup (50 mL) of fig mixture and top with another slice or 2 of the brie (use 1oz/30 g per strudel). Fold sides over to enclose filling and roll up.

4. Place seam side down on parchment-lined, rimmed baking sheet. Brush with butter. Repeat with remaining ingredients to make 7 more strudels. Using the tip of a sharp knife, make diagonal slits about 1 inch (2.5 cm) apart in the tops of the strudels.

5. Bake in the centre of the oven until pastry is golden, about 13 to 16 minutes. Serve warm with sliced apples and pears.
SHARE