Indian Summer Curry with Garden Vegetables & Lobster
Été 2014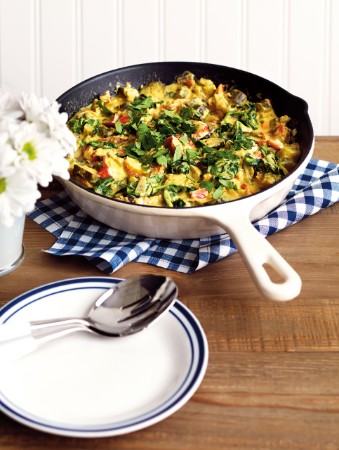 Indian Summer Curry with Garden Vegetables & Lobster
Été 2014
BY: Monda Rosenberg
Take advantage of our peak growing season to eat as many fresh, vibrant vegetables as you can. Beyond salads, a light curry is undoubtedly the easiest route to serve up a cornucopia of garden-fresh produce. You don't want to be simmering dishes for hours—and there's no need to. Just blend a big spoonful of curry paste into coconut milk and add your favourite vegetables, which make a perfect backdrop for steamed lobster. Feel free to substitute whatever you might have on hand as long as it is quick cooking. This dish is colourful and fast, and the lobster instantly elevates it to an impressive treat.
1 can (400 mL) unsweetened coconut milk, not light
2 tbsp (30 mL) curry paste such as hot curry paste or Thai yellow curry paste
½ small red onion, coarsely chopped
1 small Japanese or Chinese eggplant
3 mini seedless cucumbers or 2 small zucchini
2 medium-size tomatoes
1 cooked lobster, about 1½ lbs (750 g)
½ cup (125 mL) full-fat sour cream, 14% MF
4 cups (1 L) lightly packed baby spinach(optional)
½ cup (125 mL) coarsely chopped fresh coriander
1 Pour coconut milk into a wide saucepan and place over medium heat. Stir in curry paste until blended. Add onion and adjust heat so mixture gently boils. Cover and boil gently for 5 minutes.

2 Meanwhile, slice eggplant into ⅓-inch-thick (8-mm) rounds. Slice cucumbers lengthwise into quarters, then into bite-size lengths. After onion has cooked 5 minutes, stir in eggplant and cucumber until coated. When sauce returns to a boil, reduce heat so it just simmers. Cover and simmer, stirring often, until eggplant is tender, about 15 minutes.

3 Meanwhile seed tomatoes, then coarsely chop. Crack lobster shells and remove the meat. Slice lobster and refrigerate.

4 When eggplant is tender, blend in sour cream. Then stir in tomatoes. Stir often until hot, about 5 minutes. Just before serving, gently stir in spinach (if using) and lobster. Serve on top of rice or with rice on the side. Sprinkle with coriander.
SHARE