Indian Eggplant Curry with Homemade Chapatis
Automne 2019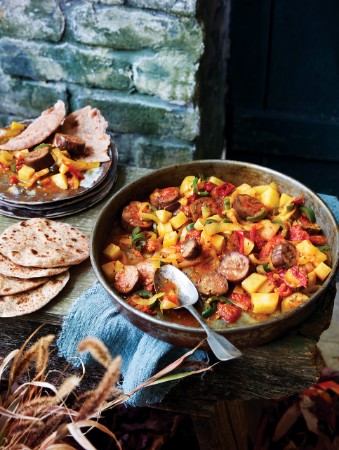 Indian Eggplant Curry with Homemade Chapatis
Automne 2019
BY: Amy Rosen
This mildly spiced, hearty Indian eggplant dish can be whipped up in minutes, leaving enough time to make homemade chapatis, a whole-wheat flatbread akin to pita. Warm from the griddle, it's the perfect vehicle for scooping up saucy eggplant.
CHAPATIS
1 cup (250 mL) whole-wheat flour
1/2 tsp (2 mL) salt
1 tsp (5 mL) olive oil
1/2 cup (125 mL) warm water
Up to 1/4 cup (60 mL) all-purpose flour

INDIAN EGGPLANT
2 tbsp (30 mL) vegetable oil
2 tsp (10 mL) cumin seeds
1 tsp (5 mL) ground turmeric
1 large white onion, sliced
2 medium Yukon gold potatoes, diced
4 small Indian eggplants, diced or 3 long Chinese eggplants, sliced
4 Roma tomatoes, diced
1/2 cup (125 mL) water
Salt and pepper to taste
3 jalapeños, seeded and sliced
2 green onions, sliced, for garnish (optional)
1 For chapatis, mix whole-wheat flour, salt and oil together in a medium bowl until combined, then stir in water. Your hands are the best tool for this. Turn the dough out onto a lightly floured surface and knead for about 10 minutes, or until soft, smooth and elastic. You may need to use up to 1/4 cup (60 mL) of all-purpose flour for this if dough is too sticky. Place kneaded dough in an oiled bowl and cover with a tea towel for 30 minutes.

2 Once rested, divide dough evenly into 5 to 6 balls. Using a rolling pin, roll each ball out on a lightly floured surface, into a thin round, about 3 inches (8 cm) in diameter.

3 Heat a large heavy pan such as a cast-iron skillet over medium heat. Cook chapatis one at a time, for 2 minutes on the first side, or until air pockets and brown spots start to appear. Flip and cook for 1 to 2 minutes more or until cooked through. Wrap in a clean dish towel to keep warm until serving.

4 To make Indian eggplant, in a large skillet, heat the oil over medium heat. Add cumin seeds and toast until fragrant, about 1 minute. Add turmeric and sliced onion. Sauté for 3 minutes or until onions go translucent. Add potatoes and continue cooking for 5 to 7 minutes or until potatoes start to brown. Add eggplant, tomatoes, water, salt and pepper. Continue cooking over medium heat, stirring now and then until tomatoes give off their juice and mixture becomes a little saucy, about 12 to 15 minutes. Add jalapeños and cook for 2 to 3 minutes more. Sprinkle with green onion and adjust seasoning if needed. Serve with the warm chapatis.
SHARE