Ice Cream Christmas Cake
Temps des Fêtes 2004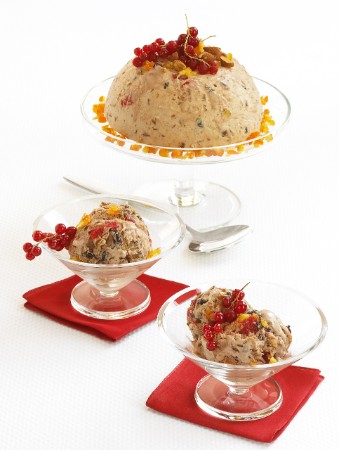 Ice Cream Christmas Cake
Temps des Fêtes 2004
BY: Jennifer McLagan
This is the perfect cake for Christmas in my native Australia - cold and creamy. Even when the weather outside is cold and snowy, ice cream is always a great dessert. It has all the flavours of fruit cake mixed in a sweet frozen cream. You can buy candied citrus peel but it is never as good as homemade. It is not difficult to make and it lasts.
¼ cup (50 mL) toasted almonds, chopped
¼ cup (50 mL) golden raisins
¼ cup (50 mL) currants
2 tbsp (25 mL) candied citrus peel (recipe follows)
12 candied cherries cut into quarters
2 tbsp (25 mL) dark rum
½ tsp (2 mL) ground cinnamon
¼ tsp (1 mL) ground ginger
¼ tsp (1 mL) ground nutmeg
Pinch ground cloves
2/3 cup (150 mL) icing sugar
1 cup (250 mL) whipping cream
2 egg whites
1½ tsp (7 mL) cocoa
1. Mix the almonds, fruit and peel together with the rum and leave to soak for 3 to 4 hours or overnight. Sift the spices with half of the icing sugar. Add the cream and whisk just until soft peaks form. Whip the egg whites with the remaining icing sugar until thick but not dry. Blend the cocoa with 1½ tsp (7 mL) hot water.

2. Fold everything together until well mixed. Spoon into a 4 cup (1 L) mould or metal mixing bowl and freeze overnight.

3. To unmould the cake, dip the mould into hot water and turn onto plate. The mixture can also be scooped like regular ice cream. Garnish with chopped toasted almonds, red currants and candied citrus peel, if desired.

Candied Citrus Peel
3 organic lemons
3 organic oranges
2 organic grapefruit
2 cups (500 mL) sugar
1. Rinse the fruit well, then dry. Cut a slice off the top and bottom of each fruit. Take each fruit and stand on one of the cut sides. Cutting down with a sharp knife remove the peel with the pith in large pieces. Keep the flesh for juice or fruit salad. If any flesh is attached to the pith, remove it. Place the peels in a large saucepan, cover them with cold water and bring to a boil. Reduce the heat and simmer for 1 hour, pushing the peels down under the water. As they cook, they will soften and sink.

2. Drain and rinse the peels with cold water. Cut the peels into small dice. Place the sugar in the saucepan and add 1 cup (250 mL) water. Heat, stirring to dissolve the sugar. Once the sugar is dissolved, bring to a boil and boil for 1 minute. Add the diced peel and simmer for 45 minutes, stirring occasionally. After this time they will be very soft and translucent.

3. Using a slotted spoon, remove and place them, in a single layer, on a large baking sheet lined with wax paper. Leave at room temperature. After about 2 hours transfer them on to another wax-paper-lined baking sheet. Leave for another 2 hours then repeat the process. Leave the peels at room temperature for about 2 days or until dry. Once dry, place in a screw-top jar. Keeps for up to 2 months refrigerated.
Makes about 2½ cups (625 mL)
SHARE