House Dressing
Holiday 2005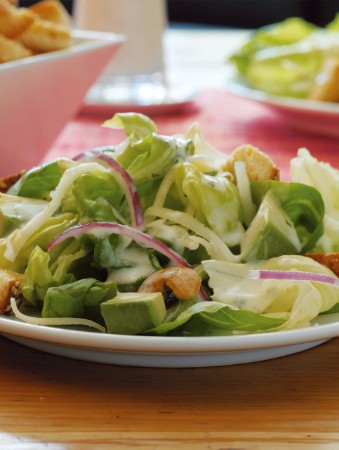 House Dressing
Holiday 2005
BY: Lucy Waverman
This very light dressing is ideal for those who like a slightly sweet taste and fewer calories.
1 cup (250 mL) olive oil
1 cup (250 mL) seasoned rice wine vinegar
3 tbsp (45 mL) soy sauce
½ cup (125 mL) chopped chives
Salt and freshly ground pepper
1. Whisk together olive oil, rice wine vinegar, soy sauce and chopped chives. Season with salt to taste.
Makes 2 cups (500 mL) dressing

Dressing Tips
Good dressings are made when you use good ingredients. An excellent wine vinegar and olive oil will produce a better dressing. The simplest dressing, just oil and vinegar, is a favourite in most European countries. If you want a plain dressing for the salad, remember to use a 3 to 1 ratio of oil to vinegar.

1 tbsp (15 mL) balsamic vinegar and 3 tbsp (45 mL) olive oil, seasoned with salt and pepper is one of the best dressings for a salad.
SHARE