Hot Porter Flip
Temps des Fêtes 2019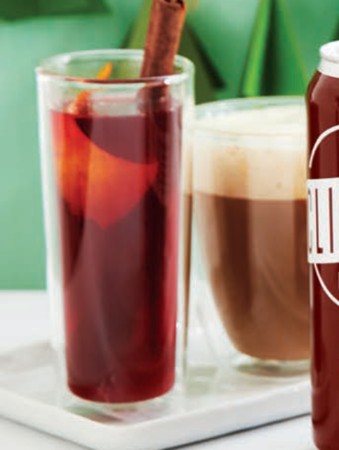 Hot Porter Flip
Temps des Fêtes 2019
BY: Crystal & Tara Luxmore
A hot Flip was the buzzy cocktail in 17thcentury New England and was "warmed" by plunging a hot poker into the mug. Try this modern take on a colonial classic crafted with Clifford Brewing Porter, maple syrup, spiced rum and frothy eggs. It's creamy, roasty and lightly sweet. We use Mount Gay Eclipse Rum (LCBO 369793).
1 can (473 mL) room-temperature porter ale
1 ½ tbsp (22 mL) maple syrup
2 eggs
2 ½ oz spiced rum
1 Gently warm the porter in a saucepan over low heat then stir in maple syrup.
2 Once the mixture is steaming, remove from heat; do not let the beer boil as it will become too bitter.
3 Beat eggs, pour into blender jar.
4 Add rum and hot beer to blender jar.
5 Blend on low until mixture is combined and frothy (approximately 10 seconds).
6 Pour into mugs and serve immediately.
SHARE