Hot Buttered Rum Cider
Automne 2017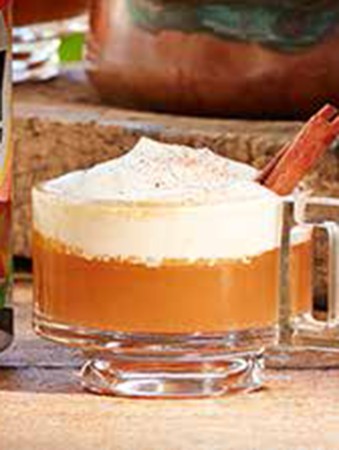 Hot Buttered Rum Cider
Automne 2017
BY: Crystal & Tara Luxmore
Simmer a pot of this spiced cocktail on your stovetop and let the scent of caramel and baking fill your home. The sweet Colonial-era sipper gets a rich molasses ribbon from dark rum and a tart kick from Niagara's Shiny Apple Cider.
1 Gently pour 2 cups (500 mL) Shiny Apple Cider into medium-size pot; add ¼ cup (60 mL) unsalted butter, ¼ cup (60 mL) lightly packed brown sugar, 3 cinnamon sticks, ¾ tsp (4 mL) nutmeg, 4 whole cardamom pods and ¼ tsp (1 mL) salt. Bring to a gentle boil over medium-high heat. Reduce heat and simmer, stirring occasionally, for 15 minutes. Remove from heat and stir in ⅔ cup (150 mL) dark rum. Serve hot in espresso cups or small mugs.
2 If desired, garnish with a cinnamon stick and a dollop of whipped cream. Sprinkle nutmeg on top.
SHARE