Honeyed Duck With Lime and Ginger
Autumn 2002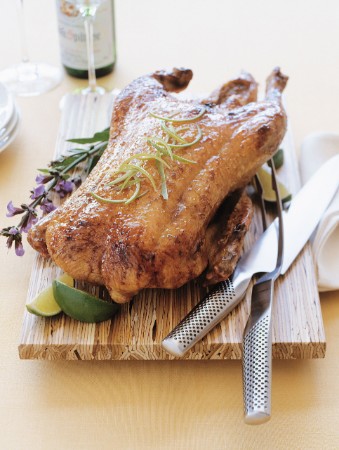 Honeyed Duck With Lime and Ginger
Autumn 2002
BY: Marilyn Bentz-Crowley and Joan Mackie
A little bit sweet and a little bit sour, this golden roasted duck looks as gorgeous as it tastes, making it a stunning focus for a fancy dinner. Lime, ginger and onion flavours gently permeate the meat while it cooks.
Two 5 lb (2.2 kg) ducks
Salt and pepper
3 or 4 limes
Two 1 x 3-inch (2.5 x 7.5-cm) pieces fresh ginger, thickly sliced
2 small onions, peeled and halved
2 tbsp (25 mL) soy sauce
1/4 cup (50 mL) liquid honey
4 cups (1 L) chicken stock
2 tbsp (25 mL) flour
Preheat oven to 400°F (200°C).
Wash and dry ducks. Remove neck and loose fat pieces from both openings. Repeatedly pinching the skin in several places, lift away from meat and prick. Season inside and out with salt and pepper. Cut two limes in half. Squeeze juice into cavities, then stuff, dividing squeezed lime halves, ginger and onion equally between ducks.
Set ducks breast-side-down, preferably on a rack, in a large roasting pan. Roast for 40 minutes. Decrease heat to 375°F (190°C), turn the ducks over and roast for another 25 minutes.
Meanwhile, using a vegetable peeler, remove zest from one lime and cut into thin julienne strips. Place in a small saucepan and cover with water. Bring to a boil and blanch for 3 minutes. Drain and set aside. Make glaze by combining soy sauce, honey and juice of one lime.
Pour off and discard all fat from roasted ducks. Brush with half of glaze, add 2 cups (500 mL) stock to pan and roast for 15 minutes. Brush with remaining glaze and roast for 15 more minutes. Test for doneness by piercing thigh with a skewer; juices should run clear. Remove ducks from pan and set on carving board loosely covered with foil for 15 minutes.
In a small bowl, gradually add 1 cup (250 mL) cooled stock to flour, stirring until smooth. Set roasting pan over medium heat. Stir in flour mixture, then gradually add remaining stock. Boil 4 to 5 minutes to reduce and thicken. Strain into a small saucepan. Add julienned lime strips. Simmer, stirring constantly, 2 to 3 minutes. Spoon off and discard any fat on the surface. Add salt and pepper to taste.
Discard cavity contents of ducks. Carve in the kitchen and serve on individual warmed plates with accompaniments such as mashed buttermilk potatoes, oven-roasted vegetables and wilted spinach. Pass sauce separately along with a plate of lime wedges.
SHARE