Honeydew Melon & Lime "Snow Cone" with Mint Cream
Summer 2015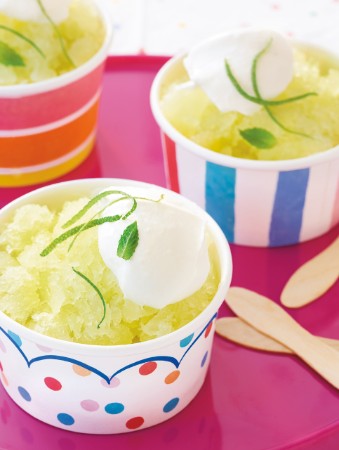 Honeydew Melon & Lime "Snow Cone" with Mint Cream
Summer 2015
BY: Joanne Yolles
Snow cones, traditionally made with crushed ice and overly sweet flavoured syrups, are akin, at least in texture, to an Italian granita. So why not make your own natural snow cone with a sweet summer melon at the peak of ripeness? As cold and refreshing as a carnival snow cone, this honeydew and lime granita comes together with minimal effort and will keep in the freezer for a week or two. It may need more or less sugar, depending on the sweetness of the melon, so taste before freezing. Whipped cream, infused with the flavour of fresh mint, adds a sophisticated touch and a lovely textural contrast.
MELON AND LIME GRANITA
3/4 cup (175 mL) sugar
3/4 cup (175 mL) water
1 large honeydew melon
4 to 6 tbsp (60 to 90 mL) lime juice, from about 4 to 5 large limes
Sugar to taste

MINT CREAM
1 cup (250 mL) whipping cream
¼ cup (60 mL) packed mint leaves
2 tbsp (30 mL) sugar

Lime rind and fresh mint leaves for garnish
1 For the granita, combine the sugar and water in a saucepan and bring to a boil. Reduce heat and simmer for 5 minutes. Remove from heat and cool the syrup to room temperature. The syrup can be made several days ahead and stored in the fridge.

2 Peel and seed the melon, then cut into chunks. In a food processor or blender, purée the melon until smooth. Strain through a fine mesh strainer into a medium bowl. You should have about 4 cups (1 L) of melon purée.

3 Add the cooled sugar syrup along with the lime juice. Taste and add granulated sugar if you would like the mixture a bit sweeter. (Once frozen, the granita will taste a little less sweet).

4 Pour the mixture into a 9 x 13-inch (3-L) glass baking dish. Freeze uncovered for 1 hour or until ice crystals start to form.

5 Stir the mixture with a fork to break up the crystals. Return the baking dish to the freezer and stir with a fork every 30 minutes or so until the mixture is frozen and completely crystallized, about 3 to 4 hours. The granita should have a light texture.

6 Store in a covered container until serving time. The granita can be made up to one week ahead, but will become more compact. If necessary, break up and "aerate" with a fork just before serving.

7 For the mint cream, place ½ cup (125 mL) of the whipping cream and the mint leaves in a small pot and bring just to the simmer. Remove from heat, cover the pot, and allow the cream to steep until tepid, about 20 minutes.

8 Strain the cream into a small bowl, pressing on the leaves to extract the most flavour. Cover the bowl with plastic wrap and refrigerate until completely chilled. The mint-infused cream can be made 1 to 2 days ahead.

9 Place the remaining ½ cup (125 mL) of whipping cream and the chilled mint-infused cream in a mixing bowl. Add the sugar, and whip until the cream holds soft peaks. The mint cream can be whipped up to 2 hours before serving. Store in a covered container in the fridge.

10 To serve, spoon the granita into serving bowls. Top with a dollop of mint cream, lime rind and fresh mint leaves.
SHARE