Hibiscus-Strawberry Shrub
Début de l'été 2019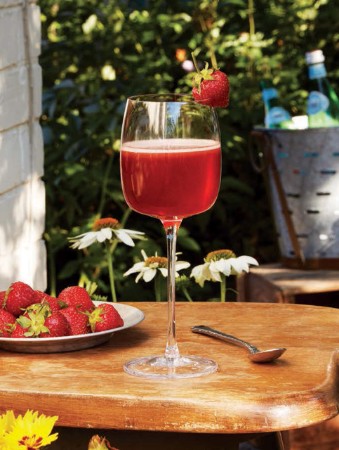 Hibiscus-Strawberry Shrub
Début de l'été 2019
BY: Victoria Walsh
1 Place ¾ cup (175 mL) finely chopped strawberries in a resealable container. Sprinkle ½.cup (125 mL) granulated sugar overtop. Stir to mix. Cover and refrigerate at least 24 hours.

2 Scrape fruit and sugar mixture into a small saucepan. Add ⅔ cup (150 mL) red-wine vinegar and ½ cup (125 mL) water. Set over medium heat. Cook about 3 minutes or until gently simmering. Add a hibiscus tea bag. Gently simmer for 7 minutes.

3 Remove from heat. Cool completely and let stand, allowing flavours to infuse, about 3 hours. When flavours have infused nicely, remove tea bag. Using the back of a ladle, swirl and push through a sieve into a sterilized jar.
Makes approximately 1¼ cups (310 mL) shrub
SHARE