Hawaiian Macadamia Coconut Crisps
Temps des Fêtes 2003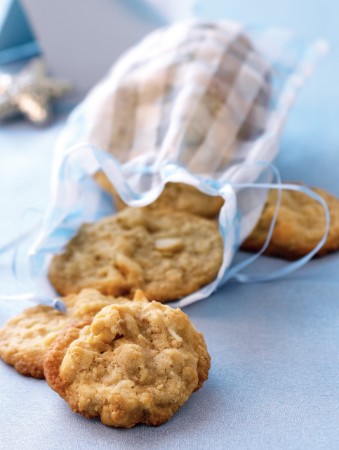 Hawaiian Macadamia Coconut Crisps
Temps des Fêtes 2003
BY: Lucy Waverman
Store in a cookie tin for up to one week. The macadamia is a rich, fatty nut that originated in Australia but now grows in Hawaii. It has a creamy, crunchy taste and texture. Substitute cashews, if desired.
1 cup (250 mL) butter, at room temperature
3/4 cup (175 mL) granulated sugar
3/4 cup (175 mL) firmly packed brown sugar
1 egg
2 tbsp (25 mL) grated orange rind
1 1/2 cups (375 mL) all-purpose flour
1 1/4 cups (300 mL) rolled oats
1 tsp (5 mL) baking powder
1/2 tsp (2 mL) salt
3/4 cup (175 mL) sweetened desiccated coconut
1 cup (250 mL) macadamia nuts, coarsely chopped


1. Preheat oven to 350°F (180°C).

2. In a large bowl, cream butter and both sugars. Add egg and beat well. Add orange rind and beat well.

3. In a separate bowl, combine flour, oats, baking powder and salt. Beat into creamed mixture. Stir in coconut and macadamia nuts.

4. Drop by tablespoonfuls onto buttered baking sheets, about 2-inches (5-cm) apart. Press down the tops with a fork to flatten slightly. Bake for 12 to 15 minutes or until edges are golden.

5. Cool for 2 minutes before removing from sheet. Cool on wire racks.
SHARE