Grilled Romaine with Toasted Cumin Vinaigrette
Summer 2017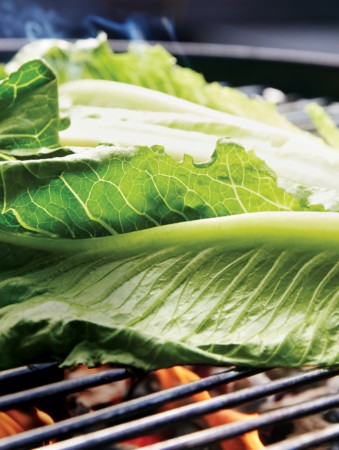 Grilled Romaine with Toasted Cumin Vinaigrette
Summer 2017
BY: Christopher St. Onge
The trick to grilling heads of lettuce is a high heat and dry lettuce. You want charred outer leaves and barely wilted inner ones. The earthy dressing is a perfect fit for the smoky lettuce and briny feta.
½ cup (125 mL) extra virgin olive oil
3 tbsp (45 mL) red wine vinegar
2 tsp (10 mL) honey
¼ tsp (1 mL) salt
½ medium red onion, sliced
1½ tsp (7 mL) cumin seeds
3 small heads of romaine lettuce
1 ripe cocktail tomato
Freshly ground pepper to taste
3 oz (90 g) feta, crumbled
1. Whisk together oil, vinegar, honey and salt; toss with onion and let stand for 1 hour.
2. Meanwhile, toast cumin in a small skillet over medium heat for 3 to 4 minutes or until fragrant and just beginning to pop. Let cool and finely grind in a spice grinder or mortar and pestle; set aside.

3. Cut romaine heads in half lengthwise; carefully wash and let dry, cut-side down, on absorbent towel.

4. Preheat grill to 500°F (260°C).

5. Meanwhile, remove onions from oil mixture with a slotted spoon and set aside. Add liquid to blender or food processor along with tomato and reserved cumin; purée and season with pepper and additional salt to taste.

6. Grill lettuce, cut-side down, for 2 to 3 minutes or until just charred; arrange on a platter and sprinkle with strained onions. Pour dressing over and top with feta.
SHARE