Grilled Pineapple & Jalapeños with Fresh Avocado & Mango
Summer 2015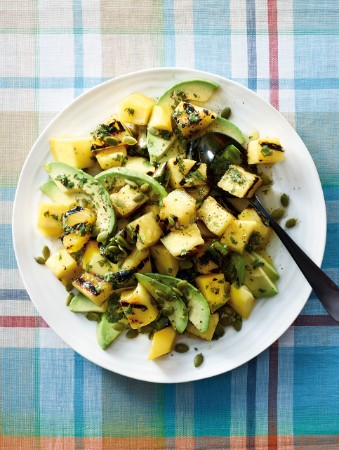 Grilled Pineapple & Jalapeños with Fresh Avocado & Mango
Summer 2015
BY: Amy Rosen
This perky nouveau Mexican dish is where warm sweet heat meets cool and smooth for a refreshing salad. A match made in heaven, grilled pineapple, jalapeños, fresh mango and avocado get tossed together with a lime-cilantro vinaigrette.
LIME-CILANTRO VINAIGRETTE
¼ cup (60 mL) lime juice (about 4 limes), room temperature
2 tsp (10 mL) runny honey
½ tsp (2 mL) sea salt
3 tbsp (45 mL) olive oil
2 tbsp (30 mL) fresh cilantro, chopped

1 cored and peeled fresh pineapple, sliced into 1 inch (2.5 cm) rounds
1 tsp (5 mL) sugar
4 jalapeños, sliced in half lengthways and seeded
1 large mango, peeled, pitted and chopped
2 avocados, peeled, pitted and sliced
Salt and pepper to taste
¼ cup (60 mL) pepitas (optional)
1 Make vinaigrette by whisking together lime juice, honey, salt and olive oil. Stir in cilantro.

2 Heat grill to medium-high, approximately 400°F (200°C).

3 Sprinkle pineapple with sugar and lay on hot grill for several minutes to lightly caramelize, flipping halfway through. At the same time, grill prepared jalapeños. When peppers and pineapple are slightly softened and smelling like heaven, about 2 minutes on each side, remove from grill and chop into chunks and gently toss with prepared mango and avocadoes.

4 Dress with vinaigrette, season to taste, and toss once more. Sprinkle with pepitas and serve.
SHARE