Grilled Corn & Peach Quesadillas with Jalapeño Crema
Été 2019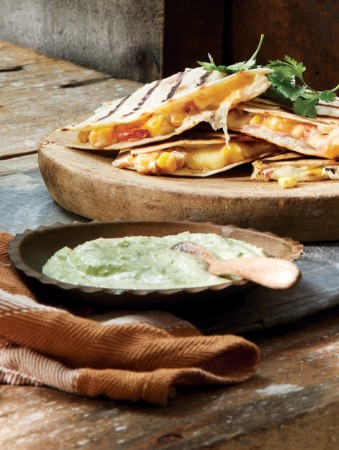 Grilled Corn & Peach Quesadillas with Jalapeño Crema
Été 2019
BY: Amy Rosen
The sweetness of the peaches is offset by the char of the corn and the spice of the jalapeño crema, making for an ooey-gooey casual appetizer. It's summertime in Ontario with a Mexi-Cali twist.
JALAPEÑO CREMA
½ cup (125 mL) sour cream
1 small garlic clove, chopped
¼ cup (60 mL) cilantro leaves
1 lime, juiced
2 jalapeños, seeded and chopped
Pinch of salt and sugar
QUESADILLAS
1 ½ cups (375 mL) grilled corn kernels, about 2 cobs
1 brick (250 g) regular cream cheese, softened
3 ripe peaches, pits removed, fruit chopped
1 lime, juiced
½ tsp (2 mL) sugar
20 small flour tortillas
2 cups (500 mL) shredded mozzarella cheese
About 2 tbsp (30 mL) vegetable oil for brushing
1 To make jalapeño crema, in a small food processor or a blender, blitz together sour cream, garlic, cilantro, lime juice, jalapeños, salt and sugar. Blend until smooth, taste for seasoning and adjust if needed. Refrigerate until using.

2 To grill corn, preheat barbecue to high, about 500°F (260°C).

3 Place shucked corn (2 cobs for this recipe, but make more while you're at it), on the grate and turn occasionally, until lightly charred on all sides and cooked through, about 10 minutes in total. Remove from heat, let cool, and slice kernels off of cobs.

4 Mix together cream cheese, peaches, lime juice, sugar and grilled corn kernels. Stir to combine. Set aside.

5 Take a tortilla and spread a heaping tablespoon of the creamcheese filling over the surface. Top with a sprinkling of shredded mozzarella, then cover with another tortilla, gently pressing the 2 sides together. Repeat with remaining tortillas and filling.

6 Lower heat on grill to about 400°F (200°C).

7 Brush quesadillas with some oil and grill on the barbecue until browned, about 2 minutes, then flip them all with a spatula and grill on the other side until browned and cheese has melted, another 2 to 3 minutes. Remove to a tray to let them cook slightly.

8 Cut each quesadilla into 4 wedges and pile them up on a serving platter, sided by a bowl of jalapeño crema and cilantro for garnish.
SHARE