Green Herb Tart with Arugula and Serrano Ham Salad
Été 2008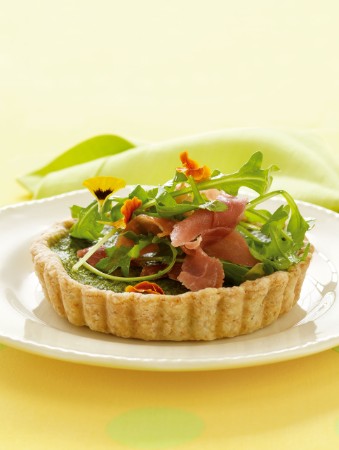 Green Herb Tart with Arugula and Serrano Ham Salad
Été 2008
BY: Eshun Mott
A beautiful way to eat your greens both cooked and raw, this brilliant green tart is topped with a loose salad for an artful presentation (though of course you can serve the salad on the side if you prefer). Sorrel is a lemony-tasting green with spinach-like leaves. It adds a delicious note in this tart of peppery greens, but if you have trouble finding it, increase the watercress to make up for the loss, and add ¼ tsp (1 mL) grated lemon rind instead. You can also use this recipe to make four 4-inch (10-cm) tarts if you prefer (the baking time will be between 26 to 28 minutes).
3 cups (750 mL) baby spinach
2 cups (500 mL) watercress, thick stems removed
⅓ cup (75 mL) chopped sorrel
¼ cup (50 mL) chopped Italian parsley
1 tbsp (15 mL) chopped chives
¾ cup (175 mL) crème fraîche
1 large egg
1 egg yolk
Salt and freshly ground pepper
One 9-inch (23-cm) tart shell, partially baked
2 cups (500 mL) baby arugula
1 tbsp (15 mL) extra virgin olive oil
1 tsp (5 mL) lemon juice
2 oz (60 g) sliced serrano ham, torn into ribbons
2 tbsp (25 mL) edible flower petals (optional)
1. Preheat oven to 350°F (180°C).

2. Wash spinach well and set aside. Heat a large skillet on medium-low heat. Working in batches, add damp spinach to dry pan, and cook for 1 to 2 minutes or until wilted.

3. Place spinach, watercress, sorrel, parsley, chives and crème fraiche in the bowl of a food processor and process until smooth. Add egg and egg yolk and process until uniform. Season well with salt and pepper.

4. Pour filling into tart shell and bake for 28 to 30 minutes or until slightly puffed and set. Let cool 10 minutes before serving.

5. When ready to serve tart, toss arugula with olive oil and lemon juice and season with salt and pepper. Mix in serrano ham and flower petals (if using), and form a loose pile of salad in the middle of the tart.
SHARE