Greek Rice and Shrimp Bake with Feta Crumb Topping
Début de l'été 2003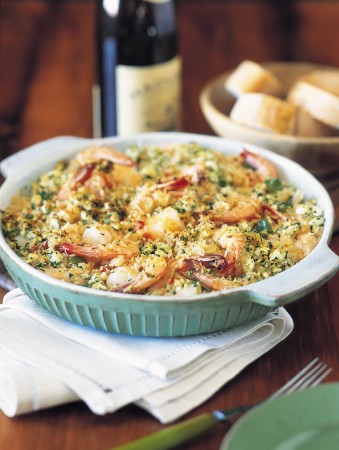 Greek Rice and Shrimp Bake with Feta Crumb Topping
Début de l'été 2003
BY: Johanna Burkhard
This Greek spin on the classic baked rice casserole calls for shrimp, but chicken can also be used. Cut three large boneless chicken breasts into cubes and brown first in oil in a hot skillet before adding to cooked rice. If you plan on doubling the recipe, use 2 1/2 cups (625 mL) rice and only 4 1/2 cups (1.125 L) stock.
2 1/2 cups (625 mL) chicken or vegetable stock
1 bay leaf
1 1/4 cups (300 mL) long-grain white rice
2 tbsp (25 mL) olive oil
1 onion, chopped
2 cloves garlic, finely chopped
1 tsp (5 mL) dried oregano leaves
1/4 tsp (1 mL) hot red-pepper flakes, or to taste
2 large tomatoes, seeded and chopped
1 large red or green bell pepper
1 lb (500 g) large raw shrimp, peeled and deveined, tails left on


Feta Crumb Topping
3/4 cup (175 mL) soft fresh bread crumbs
3/4 cup (175 mL) crumbled feta
2 tbsp (25 mL) chopped fresh parsley
1. Place stock and bay leaf in a medium saucepan and bring to a boil. Add rice; return to a boil. Reduce heat, cover and simmer for 20 minutes or until rice is just tender. Remove from heat and let cool to room temperature. Remove bay leaf.
2. Heat oil in a large nonstick skillet over medium heat. Cook onion, garlic, oregano and hot-pepper flakes, stirring, for 4 minutes or until softened.
3. Add tomatoes and red pepper; cook for 3 minutes until softened. Stir in rice and spread in a greased 10-cup (2.5 L) shallow casserole dish. If making ahead, cover and refrigerate.
4. Preheat oven to 375°F (190°C).
5. Bury shrimp in rice. Combine bread crumbs, feta and parsley in a bowl; spread over rice. Bake in oven for 25 to 30 minutes until shrimp are pink and topping is light golden.
SHARE