Grapefruit and Cranberry Marmalade
Temps des Fêtes 2003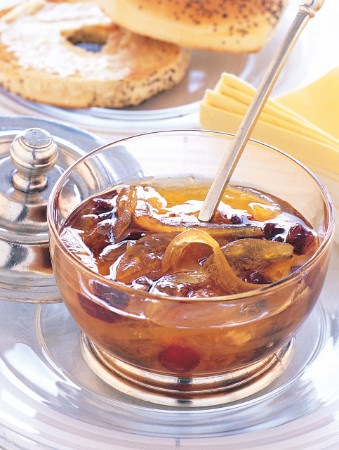 Grapefruit and Cranberry Marmalade
Temps des Fêtes 2003
BY: Lucy Waverman
This is a lovely, not-too-sweet marmalade that can be served with toast or ham or turkey. A jar of it makes a pretty little holiday hostess gift. Put jars through the dishwasher before using. This marmalade will keep for up to two months, refrigerated. Boiling the peel will soften it and remove any bitterness from the white pith.
3 lbs (1.5 kg) white grapefruit
3 cups (750 mL) water
4 cups (1 L) sugar, approximately
1 1/2 cups (375 mL) dried cranberries
1. Cut top and base off grapefruit. Score sections of skin and remove peel. Place peel in cold water to cover and bring to boil. Boil 10 minutes, drain, cover with fresh water and boil another 10 minutes. Drain. Scrape out as much white pith as you can with a teaspoon. With scissors or a knife, cut peel into thin strips.
2. Over a bowl, cut grapefruit from membranes, making sure any white pith is removed from sections and catching any juice in the bowl. Squeeze membranes to get all the juice from the sections. Remove seeds and place them in a cheesecloth bag or tea strainer. Place peel, cheesecloth bag and collected juice with 3 cups (750 mL) water in pot. Bring to boil, reduce heat and simmer for 20 minutes until peel is soft if squeezed between fingers.
3. Measure the amount of mixture (juice and peel) in cups. It should measure about 4 cups (1 L). Return to pan and add an equal amount of sugar less half a cup (125 mL). Bring to boil and boil 10 minutes. Add cranberries and boil 5 to 10 minutes longer or until marmalade is set (see tip). Remove from heat and discard seeds.
4. Cool slightly and place in jars.

Tip: To test for set, place a saucer in refrigerator before making marmalade. At step 3, place a small portion of the cooked marmalade on the plate. If it is set (a spoon drawn through it leaves a space) then remove marmalade from heat. If it is not set continue to cook.
Makes about four 1-cup (250-mL) jars
SHARE