Grape & White Wine-Simmered Mussels
Autumn 2013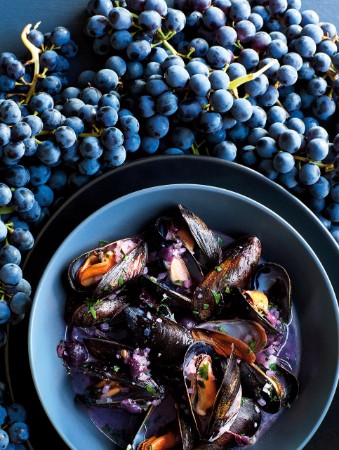 Grape & White Wine-Simmered Mussels
Autumn 2013
BY: Victoria Walsh
In season, grapes boost the flavour of this classic white wine and mussel dish while lending it a beautiful violet hue.
6 lbs (2.7 kg) mussels
1 tbsp (15 mL) butter
3 shallots, finely diced
3 garlic cloves, finely chopped
1 cup (250 mL) dry white wine
1½ cups (375 mL) seedless Coronation or Concord grapes
2 tbsp (30 mL) cold butter, cubed
3 thyme sprigs (plus more for garnishing)
¼ cup (60 mL) coarsely chopped parsley
1 to 2 crusty baguettes
1 Scrub mussels clean, removing and discarding beards. Discard any that are open and don't close when given a firm tap.

2 Melt 1 tbsp (15 mL) butter in a very large pot set over medium-high heat. Add shallots. Cook, stirring often, for 3 to 5 minutes until translucent. Add garlic. Continue cooking, stirring often for 2 minutes until softened. Pour in wine and add grapes. Cook, stirring often, until grapes soften slightly, abou5 minutes. Add mussels. Cover. Let cook 8 to 12 minutes until mussels open. Remove from heat. Spoon mussels into 4 bowls, discarding any unopened ones. Whisk cold butter into pot until evenly mixed and sauce thickens slightly. Stir in thyme and parsley. Pour sauce over mussels, leaving any sand or broken shells behind. Garnish with more fresh thyme, if desired. Serve with crusty baguette for dipping.
SHARE