Grand Marnier-Marinated Pulled Duck with Asian-Style Slaw on Crispy Won Tons
Holiday 2016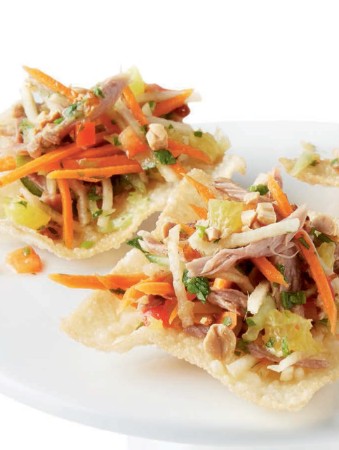 Grand Marnier-Marinated Pulled Duck with Asian-Style Slaw on Crispy Won Tons
Holiday 2016
BY: Signe Langford
Duck and orange—it's a time-tested culinary marriage. This super-fresh and versatile recipe tastes great and, depending how you plate it, can be served as a passed hors d'oeuvre (20 portions), an elegant, plated appetizer (four portions) or a satisfying entrée-sized salad for two. Don't let the multitude of steps put you off trying this; everything can be made in advance—it's really quite easy. Save the seasoned duck fat you'll find at the bottom of the casserole; it's amazing for roasting potatoes, basting a roast chicken or frying eggs!
MARINATED DUCK
⅓ cup (80 mL) Grand Marnier
1 tbsp (15 mL) soy sauce
1 tsp (5 mL) toasted sesame oil
¼ cup (60 mL) neutral oil such as peanut, soybean, sunflower, canola or grape-seed
1 tbsp (15 mL) sriracha, sambal oelek or other Asian red chili garlic paste
Pinch white pepper or more to taste
2 duck legs—drumstick and thigh—about ⅔ lb (350 g) each, skin on, bone in

VINAIGRETTE
½ cup (125 mL) neutral oil such as peanut, soybean, sunflower, canola or grape-seed
¼ cup (60 mL) seasoned rice vinegar
1 tbsp (15 mL) runny orange blossom honey or regular honey
2 tbsp (30 mL) minced or puréed fresh ginger root (a microplane or fine grater works best)
¼ tsp (1 mL) white pepper or more to taste
3 tbsp (45 mL) Grand Marnier
½ tsp (2 mL) toasted sesame oil
1 tbsp (15 mL) soy sauce

CRISPY WON TONS
Oil for deep-frying (peanut, soybean or canola all work well)
1 pkg won ton wrappers

SLAW
½ an English cucumber, seeded and grated
1 small red pepper, finely diced
1 cup (250 mL) peeled, grated jicama
1 cup (250 mL) peeled, grated daikon radish
1 large orange, peeled, diced small, white fibrous pith removed
1 to 3 hot Thai chili peppers, finely minced, seeds and all
1 large carrot, peeled and grated
½ to 1 cup (125 to 250 mL) fresh coriander leaves and tender top stems, finely chopped
4 green onions, roots and shabby green tops trimmed, finely chopped

GARNISH
½ cup (125 mL) crumbled, salted and roasted peanuts (optional)
1 Into a non-reactive bowl—glass, plastic or ceramic—stir together the Grand Marnier, soy, oils, chili paste and pepper.

2 Add the duck, turning once to coat; cover and refrigerate for about 12 hours or overnight. Flip the legs over once more at the halfway point.

3 When ready to cook, preheat the oven to 350°F (180°C).

4 Add duck and marinade to an ovenproof dish, cover and roast for 1 hour.

5 At the 1 hour mark, turn the legs over, remove the lid, and return to oven for 1 more hour.

6 When done, transfer to a plate to cool to room temperature. When cool enough to handle, peel off the skin and reserve. Pull the meat off the bones and shred into thick threads.

7 Finely chop the skin and add back to the meat. Set aside, covered, in the fridge until ready to assemble. Duck will keep for up to
two days.

8 Make the vinaigrette: simply add all ingredients to a non-reactive bowl and whisk until well combined; set aside in the fridge. It will keep for up to three days.

9 Make the crispy won tons: line a cookie sheet or large tray with absorbent kitchen towel; set aside.

10 Add oil to a deep, high-sided saucepan; bring it up to about two-thirds full; do not over-fill! Heat oil over medium-high. If you have a deep-fat thermometer, heat to about 350°F (180°C); if not, test the oil by dropping in a bit of won ton wrapper. It should sizzle as soon as it hits the oil and should bob to the surface immediately after sinking to the bottom of the pot.

11 Fry the won ton wrappers 1 at a time; use tongs to make sure they don't fold in on themselves. You want to end up with a fairly flat won ton, like a puffy, crispy pillow. Fry each side and remove from oil when a hint of gold appears. Lay out on the kitchen towel to drain. Do not overlap.

12 Continue until you've got as many won tons as you need: 20 for passed hors d'oeuvres, 8 for plated appetizers, and 6 for entrée-sized
salads. Make a few extra; there may be loss due to breakage and snackage! Fried won tons will keep in an airtight container at room temperature for up to 3 days.

13 Make the slaw no more than an hour ahead of time. To seed the cucumber, cut in half lengthwise and use a small spoon to scrape out the seeds. Add all the slaw ingredients to a non-reactive bowl (coriander is a love-it-or hate-it herb, so use as much or as little as you like), cover and set aside in the fridge until just about to serve.

14 When ready to serve, combine the pulled duck meat and skin, prepared slaw mixture and vinaigrette in a non-reactive serving bowl. If serving as a passed hors d'oeuvre, place a generous scoop of salad filling onto each won ton and, if desired, top with a pinch of chopped peanuts. If serving as a plated appetizer, divide the salad mixture into 4 portions and offer a couple of won tons per serving. If enjoying as an entrée salad for two, you'll want at least three won tons per person, but a basket of extras on the table will be gobbled up, too! Serve immediately.
Makes approximately 2½ cups (625 mL) salad
SHARE