Gorgonzola & Walnut-Stuffed Roasted Beets with Vanilla Pear Purée
Autumn 2019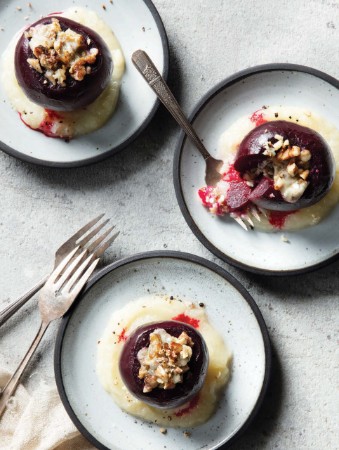 Gorgonzola & Walnut-Stuffed Roasted Beets with Vanilla Pear Purée
Autumn 2019
BY: Signe Langford
Earthy, rich, nutty and a tiny bit sweet, this easy appetizer is as pretty to look at as it is tasty. Look for smallish beets, and if you can find lovely heirloom varieties, even better. Gorgonzola, pear and walnuts make a classic flavour combination, but if blue cheese isn't your thing, switch it out for another creamy cheese—soft goat cheese works well.
6 smaller beets, washed
1 tsp (5 mL) olive oil
1 tbsp (15 mL) water
2 pears, cored, coarsely chopped
1 tsp (5 mL) honey
¼ cup (60 mL) vanilla vodka
½ cup (125 mL) coarsely chopped raw walnuts
¾ cup (175 mL) Gorgonzola, coarsely chopped or crumbled
Salt
¼ tsp (1 mL) pepper
1 Preheat oven to 400°F (200°C).
2 Trim the tops and bottoms from the beets, and arrange onto a large square of extra- strong tin foil. Drizzle with olive oil and water and wrap up tightly. Pop directly onto wire rack of oven and roast for 45 to 60 minutes or until beets feel soft when pinched and their skins are loose.
3 While beets are roasting make the pear purée and filling. Into a small saucepan over medium heat, add the pear, honey and vanilla vodka. Cover and simmer for 20 to 25 minutes or until soft and mashable.
4 Pour contents of saucepan—pear and any juice—into the bowl of a food processor or powerful blender. Blend until perfectly smooth; set aside.
5 To make the filling, add the chopped walnut and crumbled Gorgonzola to a bowl and mash together; set aside.
6 When beets are roasted, open the foil and allow to cool. Once cool enough to handle, the skin should slip right off in your fingers. Core the beets with a melon baller and stuff each beet with the nut and cheese mixture. Arrange the stuffed beets in an ovenproof baking dish, season with salt and pepper, pop back into the oven to warm through, about 5 minutes.
7 To serve, place a spoonful of the pear purée on a small plate and set a single stuffed beet in the centre.
SHARE