Golden Saffron, Coconut & Beer Mussels
Holiday 2017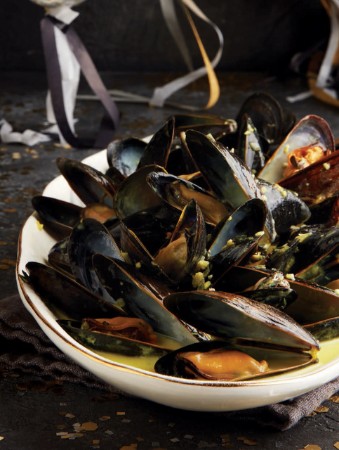 Golden Saffron, Coconut & Beer Mussels
Holiday 2017
BY: Victoria Walsh
Fresh mussels napped in a velvety and brilliantly hued broth make the perfect late-night snack. Get ahead by preparing the broth early in the day then simply continue with step 3 just before serving.
3 lbs (1.5 kg) fresh mussels
2 tbsp (30 mL) butter
1 large or 2 small shallots, finely chopped
4 cloves garlic, coarsely chopped
1 cup (250 mL) ale
2 sprigs thyme plus more for garnishing (optional)
¼ tsp (1 mL) ground turmeric
Generous pinch saffron
1 can (400 mL) coconut milk
1. Scrub mussels clean, removing and discarding beards. Discard any that are open and don't close when given a firm tap.

2. Melt butter in a very large pot set over medium- high heat. Add shallots. Cook, stirring often, for 3 to 5 minutes until translucent. Add garlic. Continue cooking, stirring often for 1 minute until softened. Pour in ale. Scrape up and stir in any brown bits from pan bottom. Add thyme, turmeric and saffron. Cook, stirring often, until beer reduces slightly, 3 minutes.

3. Slowly stir in coconut milk. Bring to a simmer. Gently add mussels. Cover. Let cook 8 to 10 minutes until mussels open. Remove from heat. Spoon mussels into bowls, discarding any unopened ones. Pour sauce over mussels, leaving any sand or broken shells behind. Garnish with more fresh thyme, if desired. Delicious served with crusty baguette or naan for dipping!
SHARE