Goat-Milk-Cooked New Potatoes
Printemps 2020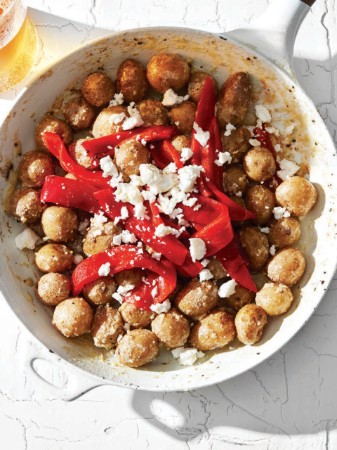 Goat-Milk-Cooked New Potatoes
Printemps 2020
BY: Christopher St. Onge
I've been craving these potatoes since testing them. The combination of goat milk and olive oil is at the heart of this one. The recipe perfectly illustrates what happens to milk when long simmered—the clear whey separates from the protein and the milk curdles. Not unlike cheese, the separated proteins are full of flavour, so don't sweat the curdle—it's part of the plan. Not all goat milk is created equal so be on the lookout for more flavourful organic milk, and be sure to choose whole milk as opposed to 2 percent.
1 ½ lbs (680 g) new (mini) white or yellow-flesh potatoes
6 cloves garlic
3 tbsp (45 mL) olive oil
1 ½ cups (375 mL) whole goat milk, preferably organic
Salt and freshly ground black pepper
1 cup (250 mL) roasted red pepper cut into strips (from a jar is fine)
3 oz (85 g) crumbled goat milk feta
1 Combine the potatoes and garlic in a large nonstick skillet (the potatoes and garlic should fit in a single layer—if not, remove as many potatoes as necessary and save those for another use) with a tight-fitting lid. Drizzle oil over. Set over medium heat and fry, stirring from time to time, until light golden, about 5 minutes.
2 Pour milk over, season with salt and pepper; cover and bring to a Reduce heat to maintain a simmer and let cook 20 minutes.
3 Remove lid, give everything a good stir and cook another 4 to 5 minutes or until curds are just starting to bro Stir to coat potatoes with curd (garlic will break down and form part of the coating), scatter with peppers, then feta. Remove from heat and cover for a few minutes until peppers and cheese are just warmed through.
Serves 4 as a side or 2 as a main
SHARE