Goat Cheese Toasts with Eggplant Confit
Hiver 2005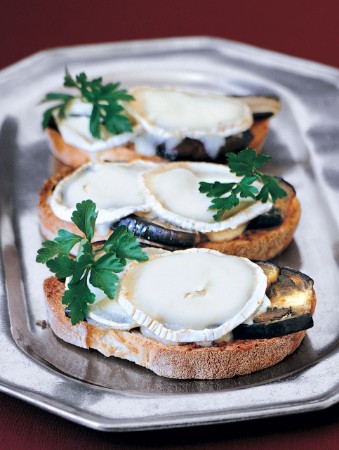 Goat Cheese Toasts with Eggplant Confit
Hiver 2005
Phillippe Colombet, corporate chef for Amora-Maille, a company that makes Dijon's oldest brand of mustard, devised this easy appetizer, which combines tender eggplant and creamy goat cheese on mustard-slathered toasts. For a simple lunch, add a crisp salad.
1 small eggplant, 12 to 16 oz (375 to 500 g)
¼ cup (50 mL) extra-virgin olive oil
½ tsp (2 mL) salt
½ tsp (2 mL) black pepper
4 slices rustic country bread, each about 4 x 6-inches (10 x 15-cm)
3 tbsp (45 mL) good-quality grainy Dijon mustard
1 log about 4 or 5 oz (125 to 140 g) goat cheese, chilled then cut crosswise into 12 slices
1. Preheat oven to 425ºF (220ºC).

2. Trim top and bottom from eggplant and cut lengthwise into 10 slices, discarding outer slices. Arrange eggplant slices in a single layer in an oiled 13 x 9-inch (3.5-L) baking dish. Drizzle olive oil over eggplant. Sprinkle evenly with salt and pepper. Bake, uncovered, 25 to 30 minutes, until eggplant is tender and starting to brown at the edges. Set eggplant aside.

3. Arrange bread slices in single layer on a baking sheet. Broil about 1 minute on each side until lightly toasted. Spread each slice of bread evenly with mustard. Arrange eggplant slices over mustard, dividing evenly. Top eggplant with slices of cheese, dividing evenly. Broil bread slices for 3 to 4 minutes, until cheese melts slightly. Serve hot or at room temperature.
SHARE