Goat Cheese Gougères with Green Salad
Early Summer 2010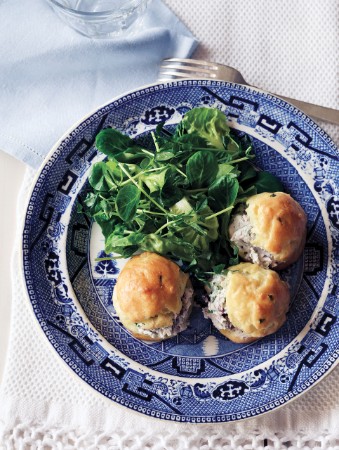 Goat Cheese Gougères with Green Salad
Early Summer 2010
BY: Lucy Waverman
Gougères are simple to make at home and here they are served with a salad as a first course. They also make dynamite hors d'oeuvres. For a more traditional presentation pipe them in small balls on a baking sheet and bake 15 minutes. I make super large ones to serve with a salad. Use a hard, grate-able Ontario or Quebec goat cheese or, to be more authentic, use a French goat cheese. You can either fill the gougères with the chèvre mixture or leave them plain.
Gougères

1 cup (250 mL) water
6 tbsp (90 mL) unsalted butter, cut into pieces
1 tsp (5 mL) kosher salt
Freshly ground pepper to taste
Pinch nutmeg
½ tsp (2 mL) dry mustard powder
1 cup (250 mL) all-purpose flour
4 large eggs
1 cup (250 mL) grated hard goat cheese
¼ cup (50 mL) freshly grated Parmesan cheese
2 tbsp (25 mL) chopped chives
1 egg beaten with 1 tsp (5 mL) water
and a pinch salt

Filling

4½ oz (140 g) soft chèvre
3 tbsp (45 mL) whipping cream
2 tbsp (25 mL) chopped parsley
2 tbsp (25 mL) finely chopped black olives
1 tsp (5 mL) finely chopped anchovies
½ tsp (2 mL) finely chopped garlic
Freshly ground pepper to taste

Salad

3 cups (750 mL) mache
3 cups (750 mL) baby lettuce
1 cup (250 mL) pea sprouts
1 tbsp (15 mL) lemon juice3 tbsp (45 mL) extra virgin olive oil
Salt to taste
1. Preheat oven to 425°F (220°C).

2. Line 2 baking sheets with parchment paper.

3. Heat water, butter, salt, pepper, nutmeg and dry mustard powder in a saucepan over medium heat, until hot. Add flour and beat it vigorously with a wooden spoon until the mixture comes together. Cook, stirring constantly, over low heat for 2 minutes. The flour will begin to coat the bottom of the pan.

4. Remove from heat and immediately add eggs 1 at a time and beat until fully incorporated. Beat in goat cheese and Parmesan and keep beating until the dough is smooth and thick. Stir in chives.

5. Spoon mixture into a piping bag fitted with a large plain tube. Pipe mounds onto baking sheets about 1¼ inch (3 cm) in size. If the balls have little points, wet your finger and press them down. If you do not have a piping bag use 2 wet tablespoons and drop mounds onto baking sheets and form them with wet hands.

6. Brush the top of each puff lightly with egg wash. Bake for 15 to 20 minutes, or until golden brown outside but still soft inside. Remove from oven and immediately prick with a toothpick or skewer to allow air to release.

7. Combine chèvre and whipping cream in a bowl and stir until uniform. Add parsley, olives, anchovies and garlic and stir to combine. Season with pepper to taste. Split 12 gougères in half, spread about 1 tsp (5 mL) mixture over each base and then close to make a sandwich.

8. Combine lettuces and sprouts in a bowl. Whisk together lemon juice and olive oil and season with salt and pepper, toss with salad.

9. Pile salad on plate and surround with either 2 or 3 gougères.
Makes about 20 gougères, salad serves 6
SHARE