Goat's Yogurt Custard-Topped Moussaka in a Jar
Winter 2013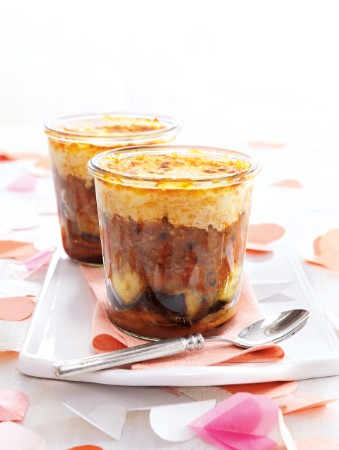 Goat's Yogurt Custard-Topped Moussaka in a Jar
Winter 2013
BY: Christopher St. Onge
Goat's milk yogurt used in the topping for this moussaka complements the highly spiced sauce beautifully. Individually portioned and baked in glass jars, the final effect reveals pretty layers. Not all glass is suitable for the oven, however, so be sure to use glass canning jars as these can withstand the high heat required to bake. Alternatively, the moussaka may be assembled and cooked, as one, in an 8-cup (2-L) gratin dish.
SAUCE
3 tbsp (45 mL) dried currants
2 tbsp (30 mL) olive oil
1 cup (250 mL) thickly sliced small white mushrooms
1 small cooking onion, finely chopped
4 cloves garlic, finely chopped
1 small red pepper, finely chopped
8 oz (250 g) ground beef
Salt and freshly ground black pepper
½ tsp (2 mL) chili flakes
Pinch ground cloves
¼ tsp (1 mL) ground allspice
1 cinnamon stick, 4 inches (10 cm)
1 tsp (5 mL) dried oregano
Bay leaf
⅔ cup (150 mL) red wine
2 cups (500 mL) crushed tomatoes
2 small baking potatoes, about 1 lb (500 g) total
¼ cup (60 mL) olive oil, divided
1 medium eggplant, about 1 lb (500 g), cut into 1-inch (2.5-cm) dice

CUSTARD
½ cup (125 mL) goat's milk yogurt
2 egg yolks
2 tbsp (30 mL) butter
2 tbsp (30 mL) all-purpose flour
1 cup (250 mL) whole milk
1 bay leaf
Pinch nutmeg
¼ tsp (1 mL) salt

TO FINISH
¼ cup (60 mL) grated Parmesan cheese
1 Put currants into a small bowl and cover with hot tap water. Allow to soften for 30 minutes. Drain and reserve.

2 For the sauce, heat oil over medium heat in a large saucepan. Add mushrooms and cook for 5 minutes or until just beginning to colour. Add onion, garlic and red pepper and cook, stirring occasionally, until beginning to soften, about 5 minutes more. Add beef to pan, season with salt and pepper. Cook, stirring to break up meat, until browned, about 5 minutes. Turn meat mixture into a colander set over the sink. Drain off liquid and return to pan over medium-high heat. Stir in chili flakes, ground clove, allspice, cinnamon stick, oregano and bay leaf. Pour wine over meat mixture and bring to a boil. Cook until wine is reduced by half, about 5 minutes. Add tomatoes and currants; bring back to a boil. Reduce heat to medium-low and simmer until thickened, 30 to 35 minutes. Remove from heat and set aside.

3 Peel potatoes and cut into ¼ inch-thick (5‑mm) slices. Heat 1 tbsp (15 mL) olive oil in a large skillet over medium heat. Season potato slices with salt and freshly ground pepper. Working in batches if necessary, add slices to pan and fry until golden, about 4 minutes per side. Transfer slices to paper towels to drain.

4 Add remaining oil to pan, and heat over medium-high. Add eggplant to skillet and fry, stirring frequently, until tender and golden, 8 to 10 minutes. Reserve.

5 For the custard topping, whisk yogurt and egg yolks together in a small mixing bowl. Melt butter in a small saucepan over medium heat. Add flour and whisk until smooth. Whisking constantly, add milk to pot, along with the bay leaf; bring to a boil and cook until thickened, about 2 minutes. Remove from heat. Season with salt, pepper and nutmeg. Discard bay leaf. Allow to cool for 10 minutes. Pour over yogurt mixture and stir to combine.

6 Preheat oven to 375°F (190°C).

7 To assemble, divide potato slices between four 2-cup (500-mL) canning jars with lids. Season eggplant with salt and freshly ground black pepper and top potatoes with an equal portion of eggplant. Divide sauce between jars. Top each with custard mixture and sprinkle Parmesan over. Place jars on a cookie sheet (a silicone baking mat, if you have one, can be used to prevent jars from sliding) and bake, uncovered, for 40 minutes or until custard is golden brown. Allow to cool for 15 minutes before topping with lids to serve.
SHARE