Gluten-Free Pasta with Rosé Sauce
Printemps 2016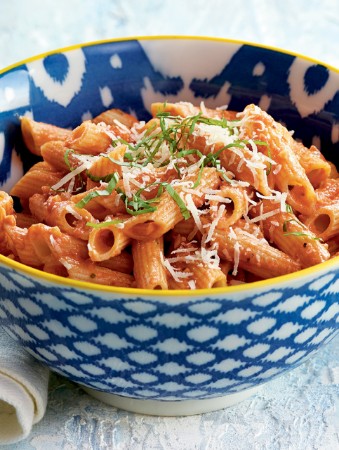 Gluten-Free Pasta with Rosé Sauce
Printemps 2016
BY: Jennifer MacKenzie
A simple, rich tomato sauce finished with a splash of cream and fresh basil lends a classic taste to gluten-free pasta. The not-too-thick and not-too-thin texture works well withwhichever shape suits your fancy—the sturdier penne, fusilli and other short shapes, as well as long thin shapes.
2 tbsp (30 mL) olive oil
1 onion, finely chopped
3 cloves garlic, minced
½ tsp (2 mL) dried basil
Salt and freshly ground pepper
1 can (796 mL) San Marzano tomatoes
2 tbsp (30 mL) tomato paste
12 oz to 1 lb (375 to 500 g) gluten-free pasta
½ cup (125 mL) whipping cream
2 tbsp (30 mL) chopped fresh basil
Freshly grated Parmesan cheese
Shredded basil leaves
1 Heat oil in a deep saucepan over medium heat. Add onion and reduce heat to medium-low. Cook, stirring, for about 3 minutes or until starting to soften. Add garlic, basil, ½ tsp (2 mL) each of salt and pepper and cook, stirring, for 2 to 3 minutes or until onion is softened, but not browned.

2 Add tomatoes and tomato paste and bring to a boil, breaking up tomatoes. Reduce heat and boil gently, stirring often, for about 20 minutes or until sauce is thickened.

3 Meanwhile, cook pasta in a large pot of boiling salted water until al dente. Drain well and return to pot off the heat.

4 Gradually pour cream into sauce, while stirring. Simmer, stirring often, for 5 minutes to blend the flavours. Stir in chopped basil and season to taste with salt and pepper. Pour enough of the sauce over pasta in pot to coat as desired. Toss gently to combine. (Cover and refrigerate any extra sauce for up to 5 days.)

5 Spoon pasta into warmed bowls and sprinkle with Parmesan and shredded basil.
SHARE