Gingerbread Dark Chocolate Trifle
Temps des Fêtes 2007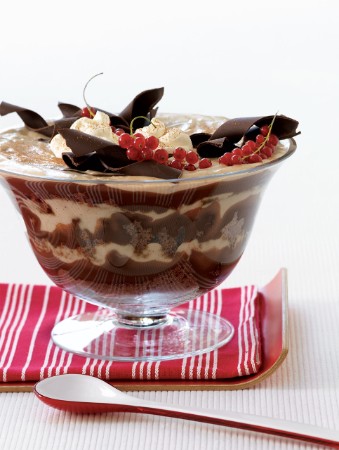 Gingerbread Dark Chocolate Trifle
Temps des Fêtes 2007
BY: Anna Olson
The gingerbread cake in this trifle is so tender and moist that it doesn't require brushing with syrup or spirits to soften. The dark chocolate sauce sets up like a truffle filling amongst the silky custard and gingerbread layers—very festive indeed.
Gingerbread
½ cup (125 mL) (1 stick) unsalted butter, room temperature
1 cup (250 mL) sugar
¾ cup (175 mL) fancy molasses
1 tsp (5 mL) finely grated lemon zest
2 large eggs
2 cups (500 mL) all-purpose flour
2 tsp (10 mL) baking soda
1¼ tsp (6 mL) ground cinnamon
1 tsp (5 mL) ground ginger
¼ tsp (1 mL) ground cloves
½ tsp (2 mL) fine salt
¼ cup (50 mL) sour cream
¾ cup (175 mL) boiling water

Cinnamon Custard
3 cups (750 mL) 2% milk
1 tsp (5 mL) ground cinnamon
4 large egg yolks
¼ cup (50 mL) cornstarch
½ cup (125 mL) golden brown sugar, packed
1 tsp (5 mL) vanilla extract
2 tbsp unsalted butter
1 cup (250 mL) whipping cream
1 tsp (5 mL) sugar

Dark Chocolate Sauce
One 300-mL tin sweetened condensed milk
3 oz (90 g) unsweetened chocolate, chopped
½ cup (125 mL) water
Cinnamon and chocolate shavings, for garnish
1. For gingerbread, preheat oven to 350°F (180°C).

2. Grease and flour a 9-inch (2.5 L) square pan. Beat butter and sugar until creamy. Beat in molasses, lemon zest, then beat in eggs 1 at a time. Sift in flour, baking soda, cinnamon, ginger, cloves and salt, stirring until blended. Stir in sour cream, then boiling water. Scrape batter into prepared pan and bake for 40 to 45 minutes, until a tester inserted in the centre of the cake comes out clean. Cool cake for 20 minutes, before turning out on a cooling rack to cool completely.

3. For cinnamon custard, bring milk and cinnamon up to a simmer over medium heat. In a bowl, whisk egg yolks, cornstarch, brown sugar and vanilla. Slowly pour hot milk into egg mixture, whisking constantly until all milk has been added. Return custard to medium heat and whisk until mixture thickens and becomes glossy, about 5 minutes. Remove from heat and stir in butter to melt. Strain and cover surface of custard directly with plastic wrap and chill completely.

4. For chocolate sauce, heat condensed milk and chocolate over low heat, stirring until melted. Whisk in water and set aside.

5. When ready to assemble, whip cream to soft peaks. Fold half of whipped cream into custard, stir 1 tsp (5 mL) sugar into remaining half and chill for topping.

6. To assemble, slice gingerbread in half, and make ½-inch (1-cm) slices from each half. Arrange a layer of sliced gingerbread at bottom of a 12-cup (3-L) trifle dish. Dollop a third of chocolate sauce over gingerbread and spread. Dollop a third of cinnamon custard over chocolate sauce and spread. Cover custard with a layer of gingerbread, and repeat process 2 more times, ending with cinnamon custard. Chill until ready to serve.

7. To serve, spread reserved whipped cream over trifle and garnish with cinnamon and chocolate shavings.
SHARE