Ginger Mojito Limeade
Summer 2018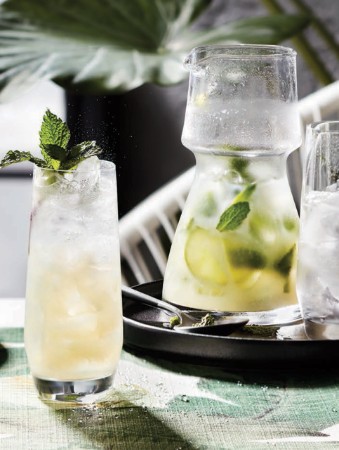 Ginger Mojito Limeade
Summer 2018
BY: Eric Vellend
This spicy and refreshing sparkling limeade is the lovechild of a Mojito and a Dark and Stormy. The rum, lime juice and syrup can be mixed and refrigerated up to four hours in advance, and, with the mint washed and lime sliced, you can assemble a pitcher in no time. Make sure to use a fresh bottle or can of club soda so the drink maintains its sparkle.
1 cup (250 mL) white rum
½ cup (125 mL) strained fresh lime juice
6 tbsp (90 mL) Ginger-Lime Syrup (recipe follows)
2 cups (500 mL) ice cubes, plus more for serving
1½ cups (375 mL) club soda, chilled
5 mint sprigs, plus more for garnish
1 lime, thinly sliced
1. Pour rum, lime juice and Ginger-Lime Syrup into a chilled 24- to 32-oz (680- to 910-mL) glass pitcher. Add ice. Slowly pour in soda. Lightly crumple mint with hands (to release oils) and add to pitcher along with lime slices. Lightly stir.

2. Serve strained into chilled Collins glasses or highballs filled with ice. Garnish with mint.
GINGER-LIME SYRUP

This zesty syrup can also be used to sweeten herbal iced tea, or mix it with soda and a splash of lime juice for a citrusy ginger ale.

2 oz (55 g) fresh ginger
⅔ cup (150 mL) water
⅔ cup (150 mL) granulated sugar
4 limes
1. Peel ginger and finely grate on a rasp set over a small bowl to capture juice. Set aside.

2. In a small saucepan, bring water and sugar to a boil over medium-high heat. Remove from heat and add ginger and its juice. Cover and let stand 45 minutes. Remove lid. Cool completely.

3. Using a rasp, finely grate lime zest into syrup. Let stand 10 minutes. Pass through fine mesh strainer set over a bowl, pressing on solids with a spoon to extract syrup. Discard solids. Transfer syrup to glass jar with a lid. Refrigerate up to 2 weeks.
SHARE