Ginger's Island
Printemps 2016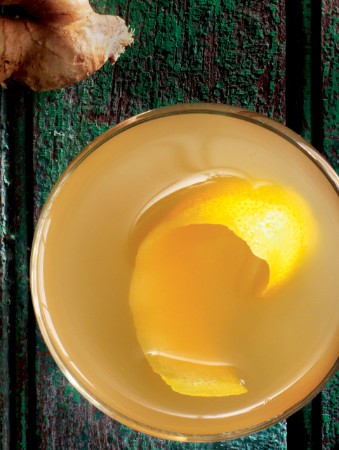 Ginger's Island
Printemps 2016
BY: Michelle P. E. Hunt and Laura Panter
Bourbon and ginger are a natural fit. You can mince ginger and add it to Simple Syrup (recipe follows), but a quicker and more efficient way to bring them together is to juice the ginger and then add it to the cocktail. The taste is more prevalent, and it's ready to go right away!
1 In a cocktail shaker filled with ice, add 1½ oz bourbon, 1 oz lemon juice and ½ oz Ginger Honey Syrup (recipe follows). Shake sharply and strain into a coupette glass. Garnish with a lemon twist.

GINGER HONEY SYRUP
1 Combine 1 cup (250 mL) sugar and 1 cup (250 mL) boiling water, stir to dissolve, then add 1 cup (250 mL) honey and 1 to 2 oz ginger juice and stir to thin.

SIMPLE SYRUP
1 Combine equal parts sugar and boiling water. Stir until sugar has dissolved. Store in the fridge until chilled.
SHARE