Garlic-Smeared Bread Bites with Burrata & Grilled Lemon
Early Summer 2020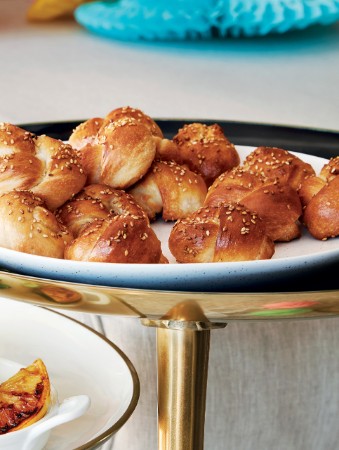 Garlic-Smeared Bread Bites with Burrata & Grilled Lemon
Early Summer 2020
BY: Victoria Walsh
Get delicious pizza-oven results by preparing this simple app' on the barbecue. The trick is to watch the bottoms and switch the tray to the top rack, so they don't pass deep-golden and move into burned territory. These are addictive served with garlic and burrata for spreading, and a squeeze of juicy, smoky grilled lemon. Set everything out for guests to assemble them however they like.
ROASTED GARLIC
2 heads garlic cloves
1 tsp (5 mL) olive oil
BREAD BITES
1 to 2 tbsp (15 to 30 mL) olive oil
1 ball store-bought pizza dough
2 tsp (10 mL) sesame seeds
GRILLED LEMON
1 lemon, cut in half
½ tsp (2 mL) olive oil
8 oz (225 g) burrata cheese
Small fresh basil leaves
1 Preheat barbecue to medium. Slice top from each garlic head. Place each onto 2 small squares of foil. Drizzle with oil. Tightly wrap. Barbecue until tender when pierced with a fork, about 20 minutes. Remove from heat. Carefully open foil and let cool.
2 Meanwhile, line a heavy-duty baking sheet with foil. Rub with just enough olive oil to coat. Cut pizza dough into 16 uneven pieces. Arrange over prepared sheet. Twist into shapes, if you like. Lightly drizzle with a little more oil. Turn to coat. Sprinkle with seeds. If there's pooling on the tray or dough, dab with a towel to soak up excess, avoiding flames on the barbecue.
3 Grill until dough bites are golden on bottom, about 15 minutes. Very carefully transfer to the top rack and continue "baking" until cooked through, about 15 more minutes.
4 Meanwhile, brush or rub lemon with a little oil. Barbecue cut-side down until grill marks form, 10 to 15 minutes.
5 Cut lemon into wedges. Serve alongside burrata. Scatter basil leaves over burrata. Arrange bread bites over a large platter or board alongside roasted garlic. Let guests smear bread bites with garlic, slice and top with cheese then squeeze with lemon to their liking.
Makes 8 appetizer servings
SHARE