Garlic Potato Soup with Parsley Oil, Frizzled Shallots & Bacon
Automne 2014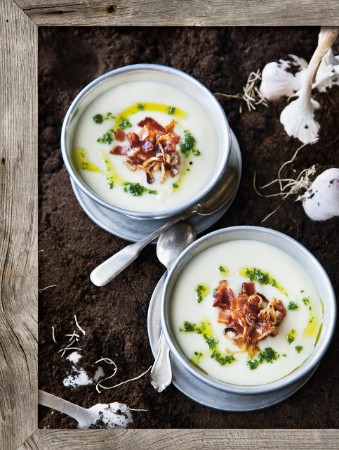 Garlic Potato Soup with Parsley Oil, Frizzled Shallots & Bacon
Automne 2014
BY: Marilyn Bentz-Crowley
Garlic flavour is tamed by roasting the cloves, so a whole head is used. This soup is reminiscent of leek and potato soup and has a contrasting garnish of crunchy bacon and shallots with a decorative drizzle of parsley oil.
GARNISH
4 slices naturally smoked bacon, about 3 oz (90 g)
2 shallots
1 tbsp (15 mL) very finely chopped fresh parsley
2 tbsp (30 mL) olive oil

SOUP
1½ lbs (750 g) gold-fleshed or baking potatoes, about 3 to 4 medium
1 head roasted garlic (see TIP)
1 tbsp (15 mL) butter
1 medium onion, chopped, about ½ cup (125 mL)
4 cups (1 L) chicken broth, or a 900-mL
Tetra Pak plus 7 tbsp (100 mL) water
½ tsp (2 mL) salt
Generous pinch of cayenne
½ cup (125 mL) whipping cream
1 Stack bacon slices; slice crosswise into lardons about ¼ inch (5 mm) thick. Peel shallots; slice crosswise into very thin rings. Finely chop parsley; add to oil and set aside.

2 Fry bacon slices in a medium-size frying pan over medium heat for 8 to 10 minutes, stirring often, or until brown and crisp. Remove crispy bacon to a paper towel, leaving all fat in pan.

3 Return pan to heat; add shallots. Fry for 5 to 6 minutes or until crisp and golden; drain on paper towels. When cool, mix bacon and shallots; discard bacon fat. (If making ahead, cover and refrigerate bacon mixture and parsley mixture, separately, for up to 2 days. Bring to room temperature before using.)

4 For soup, peel and cut potatoes into cubes; there should be about 3 cups (750 mL). Peel roasted garlic cloves; leave whole.

5 Heat butter in a large saucepan over medium heat. Add onion; sauté 4 to 5 minutes or until softened. Add broth, potatoes, garlic, salt and cayenne. Cover and simmer over medium-low heat for 20 minutes or until potatoes are tender.

6 Purée until smooth. (Soup keeps well, covered and refrigerated, for up to 2 days. Reheat over low heat or heat in the microwave, stirring frequently, until hot.) Add cream; heat until hot, but not boiling.

7 Ladle hot soup into warmed bowls. Garnish in centre with a heap of crispy bacon and shallots. Drizzle a little of the parsley oil around the heap.

TIP While it is tempting to roast a whole head, individual cloves roast faster. Preheat oven to 350°F (180°C). Break head into unpeeled garlic cloves; place on sheet of foil on a tray. Drizzle with a bit of oil; stir to coat cloves. Wrap foil into a flat package. Bake until soft, about 25 minutes. Cool; remove peel and cut off tough stem end before using.
SHARE