Garlic-Lemon Baked Cod with Kale, Tomatoes & Olives
Holiday 2018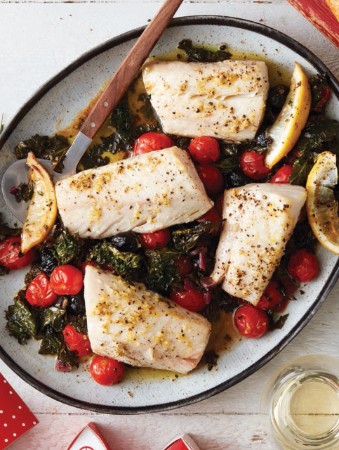 Garlic-Lemon Baked Cod with Kale, Tomatoes & Olives
Holiday 2018
BY: Jennifer MacKenzie
Entertaining is made easy—and quick—with a sheet-pan meal on deck. The Mediterranean-inspired vegetables fragrant with garlic and lemon and moist cod fillets bake up in under half an hour. Serve with a plain risotto, cooked brown rice or crusty bread. If you like, sprinkle some crumbled feta cheese on top for the last few minutes of baking.
2 cloves garlic, minced
Salt and freshly ground pepper
⅓ cup (80 mL) olive oil, divided
2 tbsp (30 mL) fresh lemon juice
1 tsp (5 mL) grated lemon zest, divided
8 cups (2 L) lightly packed chopped trimmed kale, about 6 oz (170 g).
¼ red onion, chopped
1½ to 2 lbs (680 to 905 g) skinless Pacific or black cod fillets, cut into 6 portions
2 cups (500 mL) grape tomatoes
½ cup (125 mL) dry-cured black olives
½ lemon, cut into 6 wedges
1. Preheat oven to 425°F (220°C). Line a large rimmed baking sheet with foil.

2. Combine garlic, ½ tsp (2 mL) each of salt and pepper, ¼ cup (60 mL) oil and the lemon juice in a large bowl. Spoon 2 tbsp (30 mL) into a small bowl; add ½ tsp (2 mL) of the lemon zest and set aside.

3. Add kale and onion to remaining garlic mixture in large bowl and toss to coat. Use tongs to transfer kale mixture to baking sheet, leaving excess oil mixture in the bowl. Spread kale in an even layer.

4. Roast in oven for 10 minutes or until kale is wilted and starting to brown.

5. Meanwhile, brush fish fillets with reserved 2 tbsp (30 mL) garlic mixture. Add remaining oil and lemon zest, tomatoes, olives and lemon wedges to the large bowl and toss to coat.

6. Remove baking sheet from oven and arrange fish fillets on top of kale, spacing evenly. Scatter tomato mixture around fish fillets. Season lightly with salt and pepper.

7. Roast for 12 to 15 minutes or until fish just flakes with a fork and tomatoes just start to split. Use a large lifter to transfer vegetables and fish to warmed serving plates.
SHARE