Garden Rickey
Summer 2019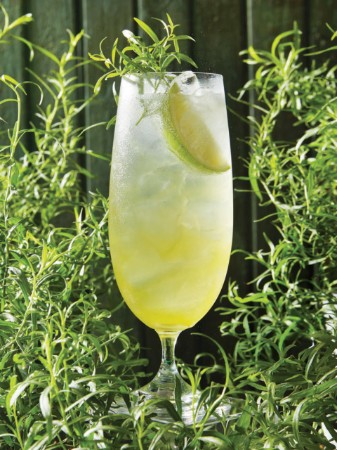 Garden Rickey
Summer 2019
BY: Eric Vellend
Tart and floral with a wallop of anise from Tarragon Syrup, this refreshing Highball is the perfect libation for a backyard cinq à sept. For this drink you'll want a classic juniper-forward gin such as Tanqueray Dry Gin (LCBO 2691).
1 ½ oz gin
½ oz St-Germain Elderflower Liqueur
1 oz strained fresh lime juice
½ oz Tarragon Syrup (recipe below)
Ice
3 oz soda water, chilled
Lime wedge and tarragon sprig
1 Pour gin, St-Germain, lime juice and Tarragon Syrup into a cocktail shaker. Add 3 ice cubes. Shake 5 seconds. Strain into a chilled Highball glass filled with ice. Top with soda and lightly stir. Garnish with lime wedge and tarragon sprig.

Tarragon Syrup
Blending tarragon with Simple Syrup instead of steeping yields a more intense flavour and vibrant green colour. You could also use this syrup to sweeten lemonade or iced herbal tea.

½ cup (125 mL) sugar
½ cup (125 mL) water
1 cup (250 mL) tarragon leaves

1 In a small saucepan, whisk sugar and water over medium-high heat until sugar is dissolved. Remove from heat and cool completely. 

2 Bring a small pot of water to a boil. Add tarragon leaves. Swirl 5 seconds and transfer with a slotted spoon to a bowl of ice water. Cool, drain and dry thoroughly on paper towel. 

3 Place Simple Syrup and tarragon in a blender. Blend on high speed for 30 seconds. Pass through a fine strainer, pressing on solids with a spoon to extract syrup. Discard solids. Transfer syrup to a glass jar with lid. Refrigerate up to 1 week. Stir before using.
SHARE