Galiano Island Blondies
Temps des Fêtes 2005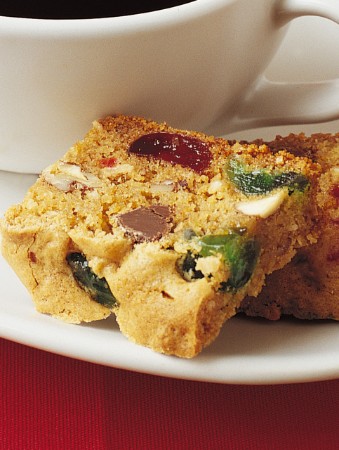 Galiano Island Blondies
Temps des Fêtes 2005
BY: Marilyn Bentz-Crowley
Waiting on this Gulf Island for the ferry to the mainland is no chore, as a tiny nearby take-out beckons with chewy bars very similar to these - and great coffee too! Bittersweet chocolate is a good foil to the sugariness of these blondies; however, semi-sweet chocolate chips can be substituted.
1/3 cup (75 mL) butter, softened
2¼ cups (550 mL) dark brown sugar
1 tsp (5 mL) pure vanilla
3 eggs
¼ cup (50 mL) canola oil
1½ cups (375 mL) cake and pastry flour
1¼ cups (300 mL) all-purpose flour
2½ tsp (12 mL) baking powder
¼ tsp (1 mL) salt
½ cup (125 mL) unsweetened coconut shreds or flakes
1 cup (250 mL) coarsely chopped bittersweet chocolate
1 cup (250 mL) walnuts or pecans, coarsely chopped
1 cup (250 mL) glacé cherries, cut in half
1. Preheat oven to 350ºF (180ºC).

2. Line a 9 x 13-inch (3-L) pan with foil allowing excess to overhang edges; lightly coat foil with baking spray.

3. Using an electric mixer, cream butter with brown sugar and vanilla. Add eggs 1 at a time, beating well after each addition. Beat in oil. In another bowl, stir flours with baking powder and salt; mix in coconut.

4. Stir flour mixture into butter mixture until almost combined. Add chocolate chips, nuts and cherries; stir until just incorporated. Turn into prepared pan; evenly smooth top. Bake in centre of preheated oven for 30 to 35 minutes, or until top is lightly browned and centre seems set when lightly touched.

5. Cool in pan on a rack. Using foil overhang, lift blondies from the pan and onto a cutting board. Peel down foil sides. Using a large chef's knife, cut into squares. Peel each square off foil. Covered, blondies keep well for days or freeze tightly wrapped in fresh foil for up to a month.
SHARE