Frozen Aperol Spritz
Été 2019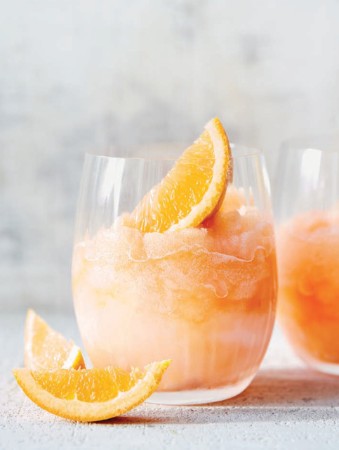 Frozen Aperol Spritz
Été 2019
BY: Eric Vellend
Light and refreshing with just a hint of bitterness, this frozen spin on the classic aperitivo gives the original a run for its money. While you may not recognize some of the ingre dients from a regular Aperol Spritz, they are important to the texture and flavour of the frozen format.
4 oz Prosecco
2 oz Aperol
1 oz vodka
2 oz fresh orange juice
¾ oz Simple Syrup (recipe below)
½ oz lime juice
3 oz ice water
Thin orange wedges, for garnish
1 Pour Prosecco, Aperol, vodka, orange juice, Simple Syrup and lime juice into an airtight container. Freeze overnight and up to 3 days.

2 Place 2 small Lowball or stemless white wine glasses in freezer for at least 30 minutes.

3 Scrape drink mixture into blender and add water. Blend until smooth, stopping and scraping down bowl if necessary. Divide among chilled glasses with a spoon. Garnish with orange wedges and serve immediately with straws.
Simple Syrup

1 Combine equal parts sugar and water in a small saucepan. Over medium-high heat, whisk until sugar is dissolved. Remove from heat and cool completely.
SHARE