Five-Spice Duck Breasts with Duck Confit Dumplings
Printemps 2007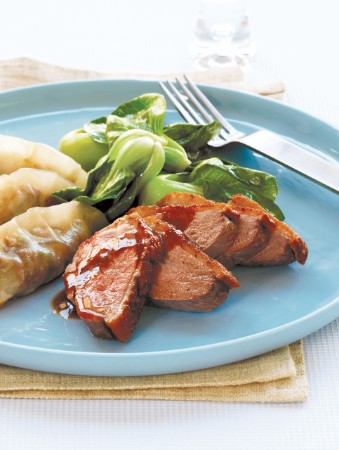 Five-Spice Duck Breasts with Duck Confit Dumplings
Printemps 2007
BY: Lucy Waverman
The dumplings can be made ahead of time and reheated in a 350°F (180°C) oven for 5 minutes. If you cannot find 5-spice powder, use a combination of equal parts cinnamon, cloves, fennel seeds, star anisee and Sichuan peppercorns or omit. Confit duck legs are available at specialty butchers and some supermarkets. They are sold precooked. If unavailable, use Chinese cooked duck or barbecued pork.
Dumplings
1 tbsp (15 mL) vegetable oil
4 oz (125 g) shiitake mushrooms, stems removed, sliced
Salt to taste
1 duck leg confit about 12 oz (375 g)
¼ cup (50 mL) chopped green onions
2 tbsp (25 mL) hoisin sauce
2 tsp (10 mL) soy sauce
12 dumpling wrappers
1 egg, beaten


Duck
2 large duck breast, about 1 lb (500 g) each
1 tsp (5 mL) 5- spice powder
Salt and freshly ground pepper


Sauce
1 cup (250 mL) chicken stock
1 tbsp (15 mL) hoisin sauce
1 tbsp (15 mL) balsamic vinegar
1 tbsp (15 mL) vegetable oil
1. Heat oil in skillet over medium heat. Add mushrooms and salt and sauté for 3 minutes or until golden brown. Remove from heat and reserve.

2. Remove duck skin from leg and discard. Shred duck meat. Combine with green onions, hoisin and soy.

3. Lay dumpling wrappers on counter. Fill with about a heaping tablespoon of duck mixture. Brush edges with beaten egg and seal, in a half moon shape.

4. Score skin of duck breasts using a sharp knife in a ½-inch (1-cm) crosshatch pattern. Rub 5-spice powder, salt and pepper over skin and flesh of duck breast.

5. Preheat oven to 400°F (200°C).

6. Place duck breasts, skin-side down, in a cold skillet. Turn heat to medium-low and cook for 15 minutes or until skin is crisp. Discard fat as it accumulates. Flip duck over and place skillet in oven to roast.

7. Bake for 10 to 12 minutes or until duck is medium rare. Discard remaining fat, remove duck from skillet and reserve skillet for making sauce. Let duck rest for 5 minutes, then slice into ¼-inch thick (5-mm) slices.

8. Add chicken stock, hoisin sauce and balsamic vinegar to reserved skillet and bring to boil. Reduce until slightly thickened, about 5 minutes.

9. While duck is cooking, heat vegetable oil in a nonstick skillet over medium heat. Add dumplings and cook for 2 minutes or until brown on bottom. Add ½ cup (125 mL) water and cover skillet. Cook dumplings for 4 minutes or until water has evaporated and wrappers are cooked. Remove from heat. Toss with sauce.

10. Serve duck slices with dumplings, any remaining sauce and bok choy stir-fry (recipe follows).

Bok Choy Stir-Fry
A quick stir-fry that has a Chinese feel to it.

2 tbsp (25 mL) vegetable oil
1 tsp (5 mL) ginger
1 tsp (5 mL) chopped garlic
4 cups (1 L) baby bok choy
¼ cup (50 mL) chicken stock
1 tbsp (15 mL) soy sauce
Salt and freshly ground pepper
1.  Heat oil in wok or skillet. Add ginger, garlic and bok choy. Stir-fry until slightly wilted, then add chicken stock. Cover wok and steam for 2 minutes or until bok choy is crisp tender. Reduce liquid until a spoonful remains and add soy sauce. Season with salt and pepper.
SHARE