Filet Mignon Puffs with Mushroom Paté
Temps des Fêtes 2009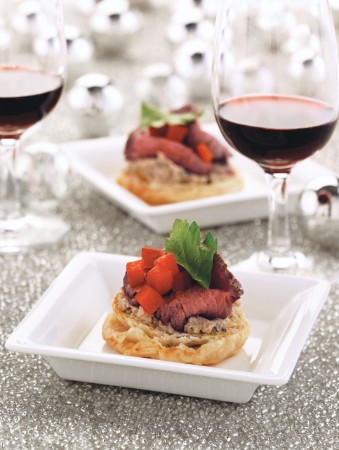 Filet Mignon Puffs with Mushroom Paté
Temps des Fêtes 2009
BY: Marilyn Bentz-Crowley
These elegant nibbles are like a soupçon of roast beef Wellington, the inspiration. All components can be made a day or two ahead.
8 oz (250 g) fresh button mushrooms
1 tbsp (15 mL) butter
1 tbsp (15 mL) freshly squeezed lemon juice
2 to 3 tsp (10 to 15 mL) chopped fresh thyme
⅛ tsp (0.5 mL) salt
2 oz (60 g) cream cheese (¼ of a 250-g pkg)
1½ tsp (7 mL) peanut oil
1 lb (500 g) filet mignon
Pinches of Maldon or other coarse salt and freshly ground pepper
Scant 8 oz (250 g) butter puff pastry (½ of a 450-g pkg)
1 roasted sweet red pepper, peeled and seeded
Several large sprigs Italian parsley
1. Whirl mushrooms in food processor until finely chopped into a mince. Heat butter in a medium skillet over medium-high heat. Add mushrooms all at once. Cook, turning frequently, for 8 to 10 minutes or until the mixture is somewhat dry and crumbly. Stir in lemon juice, thyme and salt; mix in cream cheese. Cover and refrigerate for up to 2 days.

2. Preheat oven to 450°F (230°C).

3. Coat a small to medium heavy skillet with high-heat cooking spray; add oil. Heat over medium-high until very hot.

4. Pat beef dry with paper towel. Sear beef on all sides or until browned; this takes only 3 to 4 minutes in total. Leave beef in skillet; season all sides with coarse salt and generous grindings of black pepper. Leaving in pan, roast in oven for 15 minutes. Then remove from oven; tent beef with foil for 10 minutes. Transfer to a plate; cover and refrigerate for up to 2 days.

5. Reduce oven to 375°F (190°C).

6. Unroll puff pastry. Using a 2½-inch (6-cm) round cookie cutter, cut out 16 rounds. Place on parchment provided in package; slide onto baking sheet. Bake for 12 minutes or until golden. Cool on parchment on a rack.

7. Turn off oven. When cool enough to handle, use a serrated knife to split each pastry horizontally, forming 2 rounds. Return rough-side up to parchment on baking sheet. Place in now-cooling oven for 8 minutes or until crisp. Cool, cover and store airtight.

8. To serve nibbles, thinly slice cold beef a scant ¼ inch (5 mm) thick. Slice red pepper narrowly into strips (dice, if desired). Thinly spread pastry round with mushroom pâté. Top with beef, folding to fit as needed. To each, decoratively add a strip of red pepper, a parsley leaf and a few grains of Maldon salt.
SHARE