Fig and Gorgonzola Crostini
Winter 2002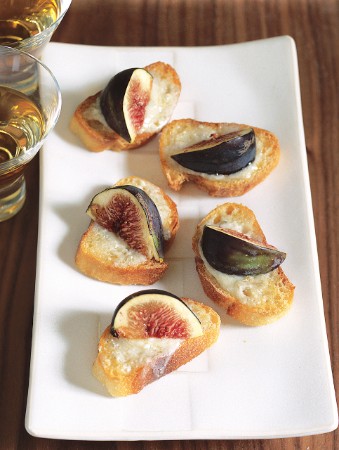 Fig and Gorgonzola Crostini
Winter 2002
BY: Heather Trim
The figs pair beautifully with the richness of the Gorgonzola. If you wish, make the toasts up to a week in advance and store in an airtight container.
1 thin baguette, about 2-inches (5-cm) round
4 oz (125 g) Gorgonzola cheese, at room temperature
3 tbsp (45 mL) unsalted butter, at room temperature
5 fresh ripe or dried figs


1. Preheat oven to 400ºF (200ºC). Thinly slice baguette into rounds. Place on baking sheet and toast, turning once, until golden, about 3 minutes a side.

2. Meanwhile, in a small bowl, mash Gorgonzola with butter until combined. Cut figs in half, and slice each half into 2 or 3 wedges. Spread 1 generous tsp (5 mL) Gorgonzola mixture on each toast. Top with a fig wedge. Place on baking sheet. Move oven rack to top third of oven and preheat broiler. Broil rounds just until Gorgonzola mixture is hot and melted, about 1 minute.


SHARE