Fig and Almond Tart
Temps des Fêtes 2004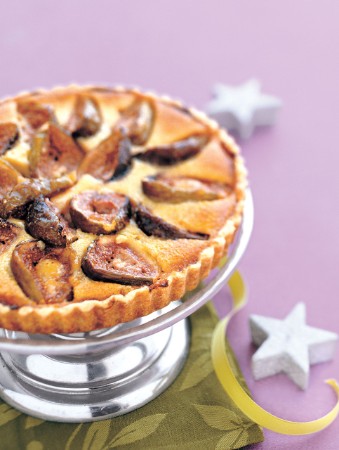 Fig and Almond Tart
Temps des Fêtes 2004
BY: Lucy Waverman
The best figs to use for this recipe are black mission figs, otherwise use whatever kind is available. If fresh figs cannot be found, use dried figs soaked in ½ cup (125 mL) boiling water and ½ cup (125 mL) brandy for 2 hours or until softened.
Pastry
3 tbsp (45 mL) ground almonds
1 cup (250 mL) flour
1/3 cup (75 mL) unsalted butter, cubed

Filling
9 to 10 figs, stemmed and cut in half
½ cup (125 mL) ground almonds
2 eggs
1/3 cup (75 mL) sugar
1 tbsp (15 mL) grated orange rind
½ tsp (2 mL) vanilla extract
¾ cup (250 mL) whipping cream

Glaze
¼ cup (50 mL) apricot jam
1. Preheat oven to 400ºF (200ºC).

2. Prepare pastry. Combine almonds and flour. Cut in butter until mixture resembles bread crumbs. Combine into a ball. The pastry is delicate so roll out between two pieces of parchment paper to fit a 9-inch (23-cm) flan pan with removable base. Alternatively, pat into pan. Place parchment paper over pastry, and weight with dried beans or metal pie weights. Bake for 15 minutes. Remove weights and paper and bake 5 to 10 minutes longer or until pastry is pale gold.

3. Reduce heat to 350ºF (180ºC).

4. Place figs on base of tart in a circular pattern. Whisk together almonds, eggs, sugar, orange rind, vanilla and whipping cream. Pour over figs.

5. Place in oven and bake for 35 to 45 minutes or until custard is set. Cool.

6. Heat apricot jam in a small saucepan over medium heat. Brush over figs.
SHARE