Fig, Chèvre & Ham Galettes
Holiday 2017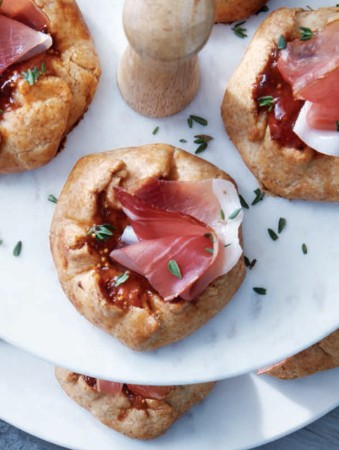 Fig, Chèvre & Ham Galettes
Holiday 2017
BY: Christopher St. Onge
This delectable bite combines tried-and-true flavours with a flaky crust. Spelt flour is deliciously nutty and gluten-free and, when combined with all-purpose flour, contributes to a galette dough that is tender and flavourful. Top the galettes with either mild salt-cured prosciutto or more robust smoked-cured speck—both are delicious here.
DOUGH
1½ cups (375 mL) all-purpose flour
½ cup (125 mL) whole grain spelt flour
1¼ tsp (6 mL) salt
1 tsp (5 mL) sugar
12 tbsp (180 g), or 1½ sticks cold unsalted butter, cut into small pieces
1 cold egg yolk
¼ cup (60 mL) cold water
5 oz (150 g) room-temperature soft unripened goat cheese
1 tbsp (15 mL) cream or milk
1 tbsp (15 mL) chopped thyme, plus extra leaves for garnishing
2 tsp (10 mL) orange zest
Pinch salt
Freshly ground black pepper to taste
½ cup (125 mL) good quality fig spread
1 egg yolk
1 tbsp (15 mL) cool water
8 thin slices prosciutto or speck, halved
1. In a food processor, combine all-purpose and spelt flours, salt and sugar; pulse to combine. Add butter and process until mixture resembles coarse meal. Whisk together the egg yolk and water; slowly add through the feed tube while pulsing to combine. When dough begins to clump together, turn out onto counter; divide evenly in 2 and pat each portion together. Flatten into discs and wrap each in cling wrap; refrigerate for at least 1 hour.

2. Mix together goat cheese and cream in a small bowl; stir in the thyme, zest, salt and a grinding of black pepper. Set aside.

3. Working with 1 portion of dough at a time, roll out on a lightly floured surface to roughly ⅛-inch (3-mm) thick. Using a 4-inch (10-cm) round cutter, cut out 8 rounds, re-rolling scraps as necessary. Repeat with remaining dough to create 16 rounds in total.

4. Working with one at a time, spoon a scant tablespoon of the cheese mixture into center and spread out leaving a 1-inch (2.5 cm) border. Top with 1½ tsp (7 mL) of the fig jam and spread evenly over cheese; fold excess dough inward, pleating as you go, leaving an opening in the center. Transfer to a parchment-lined baking sheet and repeat with remaining dough rounds and filling. (Galettes may be made to this point, covered with cling wrap and refrigerated up to 6 hours in advance.)

5. Preheat oven to 375°F (190°C).

6. Whisk together egg yolk and water; brush over exposed pastry and bake in preheated oven for 25 to 30 minutes or until golden. Let stand 10 minutes; top each with a piece of prosciutto and serve warm sprinkled with extra thyme leaves.
SHARE