Farmhouse Strawberry Pie with Rosé Wine & Black Pepper
Summer 2011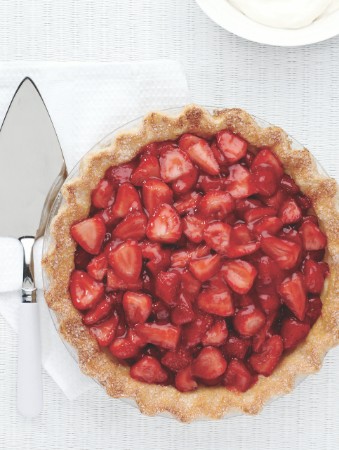 Farmhouse Strawberry Pie with Rosé Wine & Black Pepper
Summer 2011
BY: Marilyn Bentz-Crowley
Since the mid-19th century this dessert has retained its charms—and its simplicity. The strawberries settle gently on each plate and require only a huge dollop of softly whipped cream to be ambrosia. A slug of rosé wine instead of the traditional water in the filling adds a touch of acidity. Pass a pepper mill at the table, as the more avant-garde may wish to grind some over their dessert to enhance the strawberry flavour.
8 cups (2 L) strawberries, preferably local
1 cup (250 mL) granulated sugar
About ½ cup (125 mL) rosé wine or water
¼ cup (60 mL) cornstarch
9-inch (23-cm) baked pie shell, preferably made with butter
2 tbsp (30 mL) granulated sugar
1 cup (250 mL) cold whipping cream
1 pkg Dr. Oetkers Whip it (10 g) (optional)
3 to 4 large perfect strawberries for garnish
Black pepper mill (optional)
1 Wash berries and dry by placing on paper towels before hulling. Hull, leaving small berries but slicing large ones into halves or quarters. Stir sugar into berries. Let stand 2 to3 hours to let juices form (less for local strawberries, longer for large imported berries).

2 Drain juice from berries into a measuring cup; add wine as needed to bring up to1½ cups (375 mL). Remove ¼ cup (60 mL) of this juice; stir in cornstarch and set aside.Bring remaining juice mixture to a boil over medium-high heat in a medium saucepan.Whisking constantly, add cornstarch mixture. Let bubble 30 to 60 seconds or until clear; remove from heat.

3 Turn thickened juice into a mixing bowl (this reduces temperature). Stir drained berries into thickened juice. Turn into pie shell, heaping slightly in the middle. Turn berries decoratively so top looks lovely. Refrigerate, uncovered, at least 2 hours to set, but not longer than 6 to 8 hours.

4 To serve, add sugar to whipping cream. (If making ahead, also add contents of Whip it packet to stabilize cream for hours.) With electric beaters or a whisk, beat cream until thickened.Cut pie into wedges; top with a very large dollop of cream. Garnish with a half strawberry, and pass a pepper mill. Pie does not keep well beyond half a day.
SHARE