Fall Vegetable Soup
Autumn 2012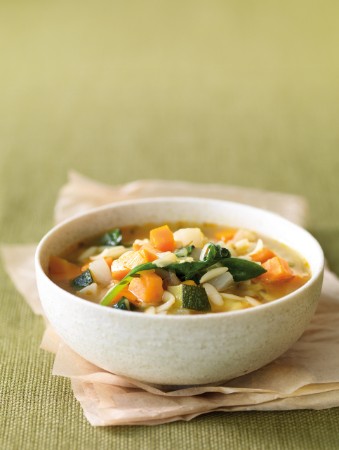 Fall Vegetable Soup
Autumn 2012
BY: Lucy Waverman
The many fresh vegetables from roots to greens that are available in the marketplace play a large part in the making of this soup. I have chosen my favourites but you can replace any with something you like better. This makes a lot of soup but it keeps for five days and freezes well. If you are making ahead, it is better to boil the orzo separately and stir it into the soup when reheating. Otherwise it absorbs too much liquid as it sits.
1 tbsp (15 mL) olive oil
1 cup (250 mL) diced onion
1 cup (250 mL) diced leeks,white and light green part only
1 cup (250 mL) diced turnips
1 cup (250 mL) diced sweet potatoes
1 cup (250 mL) diced carrots
1 tbsp (15 mL) chopped garlic
6 cups (1.5 L) chicken stock
2 tsp (10 mL) maple syrup
1 tsp (5 mL) chopped fresh thyme
½ cup (125 mL) orzo
1 cup (250 mL) diced zucchini
1 tsp (5 mL) Sriracha or other Asian hot sauce
3 cups (750 mL) baby spinach
Salt and freshly ground pepper
1 Heat olive oil in a large pot over medium heat. Add onion and leeks and sauté until coated with oil, about 2 minutes. Add turnips, sweet potato, carrots and garlic and continue to cook, stirring, for about 3 minutes or until vegetables are beginning to soften.

2 Add stock, maple syrup and thyme and bring to boil. Reduce heat to medium and simmer for5 minutes then add orzo and simmer for 5 minutes longer. Add zucchini and hot sauce and simmer for 10 minutes or until vegetables and orzo are tender.

3 Add spinach and cook for 2 minutes longer or until spinach is wilted. Season with salt and pepper to taste.
SHARE