Fall Succotash
Autumn 2017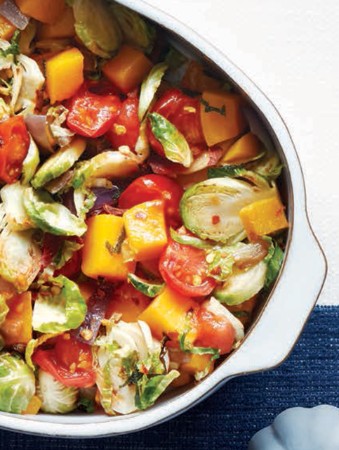 Fall Succotash
Autumn 2017
BY: Lucy Waverman
Succotash generally has corn in it but this one is a mélange of fall vegetables that are sautéed and combined. Not an authentic succotash but really tasty!
1 tbsp (15 mL) vegetable oil
½ cup (125 mL) chopped red onion
2 tsp (10 mL) chopped garlic
2 cups (500 mL) diced butternut squash
1 cup (250 mL) cherry tomatoes, halved
1 cup (250 mL) Brussels sprouts, thinly sliced
2 tbsp (30 mL) sliced fresh sage leaves
Salt and freshly ground pepper
Pinch arbol chili pepper or other hot peppers
1. Heat vegetable oil in a sauté pan over medium heat. Add onion and sauté until slightly softened, about 2 minutes. Add garlic and sauté for 30 seconds.

2. Stir in butternut squash, tomatoes, Brussels sprouts and sage leaves and sauté for 2 minutes or until beginning to brown.

3. Season with salt and pepper, cover and cook, stirring occasionally, for 4 to 5 minutes or until vegetables are tender and the tomatoes have softened. Season with chili and serve.
SHARE